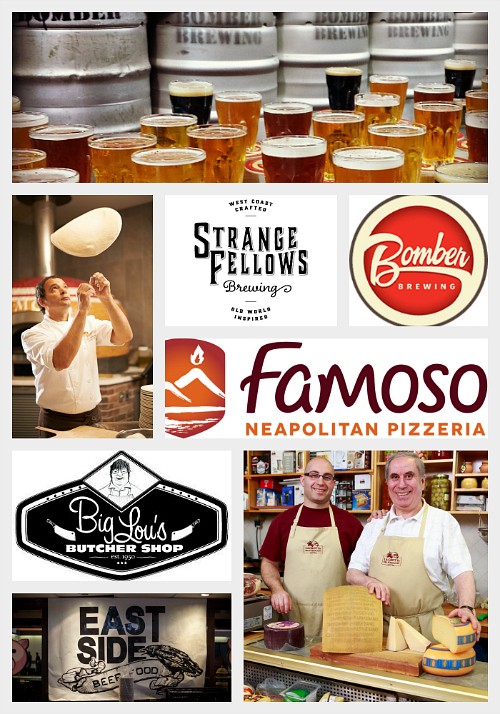 Pre-tasted wines for under $16.00 from The Wine Diva Plus the Food part of Dine Out Vancouver.
3 chefs – no waiting @  The Parker/Blacktail/Forage.  

Podcast: Play in new window | Download
[divider]
THE SHOW
The Wine Diva Daenna van Mulligen
loves her lists. Some longer than others.
However, I think THE most popular list she presents is the one today.
The best tasting wines she could find
under $16.00
.   This list is GOLD.
Follow along at
www.winediva.ca
Sinfonia Monastrell~Cabernet Sauvignon, Jumilla Spain $14.99
Luis Felipe Edwards Chardonnay, Central Valley Chile $11.00
Casolari Lambrusco Di Sorbara DOC Frizzante, Emiglia~Romagna Italy $15.99
Alamos Cabernet Sauvignon Mendoza Argentina $14.99
Perseus Viognier, Okanagan Valley BC $15.00
Bodegas Piqueras 'Castillo de Alamansa Reserva', Alamansa, Spain $13.99
Michel Torino 'Cuma' Organic Torrontes, Cafayate Valley, Argentina $13.99
Alfiero Boffa 'Storica' Barbera d'Asti, Piedmont Italy $15.00
Navarro Lopez 'Pergolas' Old Vines Tempranillo, Valdepenas Spain $11.96
Castellani 'Principesco' Pinot Noir Della Venezie, Italy $14.00
Graffigna Centenario Reserve Pinot Grigio, San Juan Argentina $14.49
Smoking Loon Viognier, California $14.99
Bodega La Rural 'La Vuelta' Syrah, Mendoza Argentina $10.00
Cono Sur Organic Pinot Noir, Colchagua Valley Chile $15.49
Undurraga 'Sibaris' Reserva Especial Carmenere, Colchagua Valley, Chile $15.99
McLarens On The Lake Shiraz, McLaren Vale Australia $13.99
Castillo de Monseran Garnacha, Carinena Spain $9.99
Handcraft Artisan Collection Chardonnay, California $15.99
Louis Bernard Cotes du Rhone Blanc, Rhone Valley France $15.99
Luccarelli Negroamaro, Puglia Italy $14.99
Casa Silva 'Dona Dominga' Sauvignon Blanc~Semillon, Colchagua Valley Chile $14.00
Ruffino Chianti DOCG, Tuscany Italy $15.99
Graham Beck 'The Game Reserve' Shiraz~Viognier, Western Cape South Africa $15.00
Quails' Gate Rose, Okanagan Valley BC $15.99
Palo Alto Reserva I, Maule Valley Chile $14.99
Codorniu Classico Brut Cava, Spain, NV $14.99    
PS..The Wine Diva will host our two 1 hour specials at this year's Vancouver Wine festival
[divider]
Dine Out Vancouver
 Last week we teased Dine Out in Vancouver by visiting craft beer and distilleries in The East End.
This week we're  down to the nitty gritty..food and the chefs that create with them.
We start with organizer Lucas Pavan who sends us out into the night.
We start on the edge of Vancouver's Chinatown at The Parker with Chef Felix Zhou and co-owner Steve Da Cruz.

Fabulous vegetarian dishes in a 19 seat bistro. What a find!! 
www.theparkervancouver.com
@parkeryvr
Then its off to
Chef Geoff Rogers at Blacktail in Gastown
..near the steam clock.
Yes, it was once called Blacktail Florist but now it's just Blacktail. And with the name change a new chef.
Executive chef
Geoff Rogers
, perhaps you saw him on  Top Chef Canada, comes from Calgary.  Geoff brings his fresh culinary skills from stops at  River Café  Muse and Market.
The dude is damn good. The whole kitchen has smartened up..all for the better.
Chef wants the experience at Blacktail to be like family dinners from your past. Without the fighting.
www.blacktail.ca
@chef_rogers
@blacktailrestaurant
Then we're off to Robson Street and
Chris Whittaker at Forage.
"Forage stands for everything I care about. It represents what I was taught about food preparation both when I was growing up and over the course of my career in the kitchen. To me forage means that we no longer seek out excess and indulgence, but instead revisit a time when we respected the land and oceans and took only what we needed to survive. It is about being stewards of our land and true conservationists, as we conduct our business and live our lives. It is about goodness, about taking care of each other, and bringing together our community over good food". 
—Chris Whittaker, Head Chef – Forage
Isn't that the kind of thinking we all want from the kitchen??
www.foragevancouver.com
[divider]
Heading back to the Okanagan..to discover the differences  between "The Hills Boys".
Randy Toor at Desert Hills
in the South Okanagan and
Bobby Gidda at Volcanic Hills
in West Kelowna.
They're friends..and sometimes grow the same wines but that's where the similarity ends.
Randy is in Big Red heaven on the Black Sage Road in south Okanagan..and Bobby Gidda is just below Mission Hill in West Kelowna.
Let's find out what makes them so different from each other.
www.volcanichillswinery.com
www.deserthills.ca
[divider]
… and we finish off this Tasting Room Radio with
Alison Sokol Blosser
team leader from Sokol Blosser  one of the pioneering wine families in Oregon.
They've been growing grapes for more than 40 years. Before there
was
an Oregon wine industry.
Sokol Blosser produce Pinot Gris, Pinot Noir, Chard, Pinot Blanc and small quantities of special block Pinot Noirs.
Alison along with her brothers Alex and Nik,  have taken over the leadership of the family winery  and are helping to lead the Oregon wine industry into its second generation.
Alison kindly answered all my Oregon wine questions before we got to her wines. For that I thank her.
www.sokolblosser.com
Podcast: Play in new window | Download
[divider]
 STORIES WE'RE WORKING ON
50 chefs – One Soup as part of our soup special
The Wine Diva in Italy
Argentina in an Hour
NZ in an Hour
Tom Cochrane
Bruce McCulloch
Alan Doyle