The  Wines of  Bloom and Arterra Wines buy Laughing Stock
 

Podcast: Play in new window | Download
Hello December!!
Jay Wright – President and CEO of Arterra Wines Canada
Another Okanagan Winery has been scooped up by a much larger company.
Arterra Wines Canada announced this week an agreement to acquire Laughing Stock Vineyards on the Naramata Bench.
Arterra have been in the BC wine business for more than 30 years with top end vineyards like Black Sage and Sunrock and wines such as Sumac Ridge, See Ya Later, Jackson-Triggs, Inniskillin Okanagan and Nk'Mip Cellars.
Laughing Stock's Bordeaux Blend Portfolio is considered one of the best blends in Canada and their Syrah Ain't too shabby either.
Founders Cynthia and David Enns will continue on at the winery.
Our guest is Jay Wright, the President and CEO of Arterra Wines Canada.
Bloom VQA Wines in Vancouver (Golden Mile)   
Adrian Cassini – Cassini Cellars
 It's sometimes  best when you walk into a room where close to 100 wineries are pouring,  to work the room alphabetically. Unless of course you forget to spit.
We start with the winemakers from the C's (The A's and B's didn't have winemakers available)
The hottest C winery this year is Cassini on the Golden Mile Bench. After winning 7 Gold and 5 Silver they were named winery of the year at Intervin and have had an astonishing year in the awards circuit. A record 2 Lieutenant Governors Awards and 2 more Gold in LA.  Our guest is the visionary owner/winemaker Adrian Cassini.  cassini.ca 
Chris Jentsch from CC Jentsch also on the Golden Mile Bench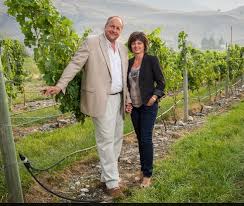 Character guy makes character wines.  His winemaker Amber Pratt has taken  on a much tougher job, being the Mom of three children.
Chris has downsized a bit but still he's a full time working owner and grower. Jentsch continues to win award after award and if you haven't tasted their Syrah or The Chase, you have a treat waiting for you.
Gene Covert from Covert Farms
 Beautifully located at  McIntyre Bluff in South Okanagan.
Gene and his family operate a 4th generation 650 acre organic farm, vineyard, and winery. Their organically-grown wine portfolio includes Roussanne/Viognier, Sauvignon Blanc/Semillon, Rosé, as well as  proprietary red blends, The Bluff, MDC and the iconic, Amicitia.
Yes,  they work tough hours and even tougher conditions but nobody has more fun doing it that the Covert Clan. It shows in their wines.     covertfarms.ca
Next  Pacific Breeze, Therapy and Spierhead.
 Pacific Breeze – Maurice Hamilton  Founder/Owner  Pacificbreezewinery.com  What started years ago as a home based hobby wine has turned out to be a very successful New Westminster based winery. Named Winery of the Year in 2010.  Pacificbreezewinery.com
Therapy Vineyards – Mike Boyd  New owner  therapyvineyards.com  At the far end of the Naramata Bench.  Very popular destination for wine fans. Come meet the new owner and hear his plans.
therapyvineyards.com
Spierhead Winery – Bill and Marina Knutson  Owners  spierheadwinery.com  Just outside Kelowna.
Spierhead makes fine Pinot Gris, Riesling and Chardonnay but they really specialize in Pinot Noir.
2016 Golden Retreat, Pinot Noir Cuvee, Pinot Noir GFV Saddle Block and standard Pinot Noir.
Rated Top 10 wineries in Canada, BC and best small wineries in Canada.    spierheadwinery.com
David Paterson – Winemaker/GM  Tantalus
Tantalus is situated on the eastern slopes of the Okanagan Valley, overlooking the shores of Lake Okanagan and Kelowna.
Originally known as Pioneer Vineyards, the site was first planted to table grapes in 1927 and today is known as the oldest continuously producing vineyard in British Columbia
David Paterson is a Kiwi and a Canadian, having been born in Vancouver. He received his winemaking degree from Lincoln University NZ & following time spent working in the local NZ industry he travelled the wine world gaining experience at premium wineries in Oregon, France & Australia.
He landed at Tantalus in 2009 and with seven successful vintages under his belt with the winery he took on the role of GM as well in 2016. Prior to joining Tantalus, David was working with celebrated South Australian producer Henschke Cellars. 
As such he got to work the vineyards at the world famous Hill of Grace.  Riesling has always been the leader at Tantalus however, through  David's guidance Chardonnay, Pinot Noir and Blanc de Noir have caught our attention.  www.tantalus.ca 
Podcast: Play in new window | Download
STORIES WE'RE WORKING ON
Hester Creek
Moon Cursor
Bob Blue – Bonterra/1000 Stories (Bourbon Barrel Aged Zin)