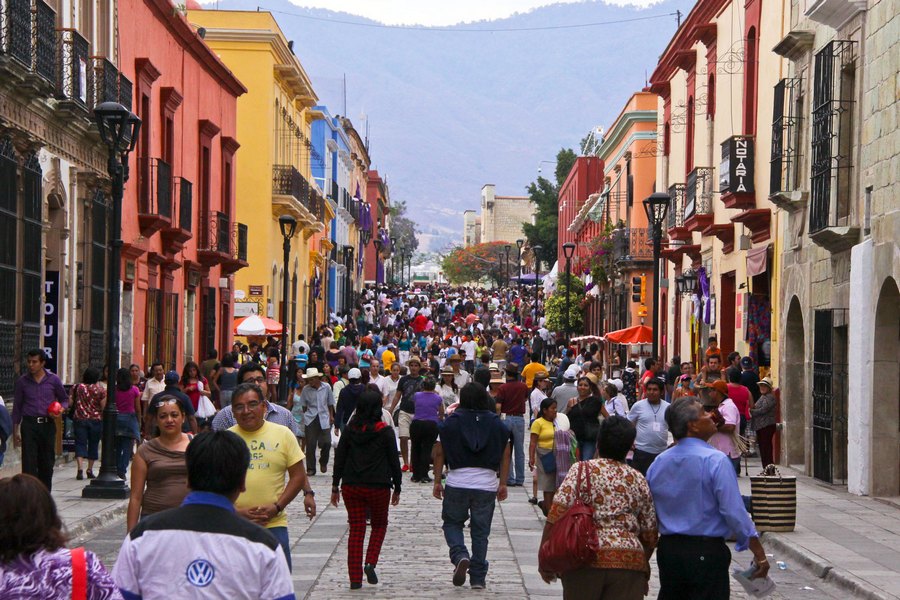 Heading to The Home of true Mexican Cooking in Oaxaca with Susana Trilling.
 

Podcast: Play in new window | Download
The SHOW
Cheers and welcome to Year 10 of Tasting Room Radio.
You can find the Podcast on iTunes, Airs at 11am Pacific every Saturday at Roundhouse Radio 983 Vancouver.
Alex Chen – Canadian Culinary Championships – Gold Medal Winner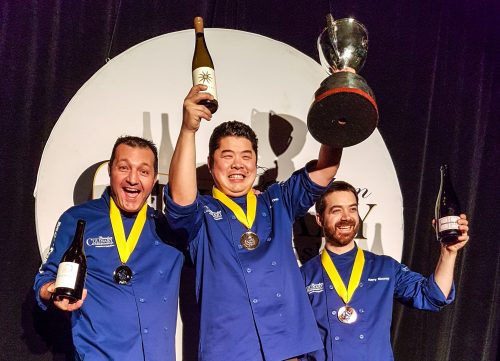 Chef Alex Chen wins GoldWe start in Vancouver at the Boulevard Restaurant at The Sutton Place Hotel with Gold Medal Winning Chef Alex Chen.
He'll be answering the question – How did he do it?  How did he beat the very best chefs in Canada in the Canadian Culinary Championships.
He's a totally engaging and passionate guest, very much like his cooking.
Alex  was one of 11 chefs who won Gold Medal Plates regional competitions held across the country in 2017 to earn the right to compete in the national championships, which began with a Mystery Wine pairing event on Friday night and continued Saturday with a Black Box competition that allowed chefs just one hour to prepare a dish using seven mystery ingredients.
The two events culminated in Saturday night's grand finale, where Chen prepared the same signature Parfait of Wild BC Shellfish, 'Chowder', Northern Divine Caviar and Bull Kelp 'Brioche' — paired with Sea Star Estate Farm and Vineyards' 2016 Ortega from Pender Island, BC — that earned him top spot at the Gold Medal Plates regional competition in Victoria, BC last October.
Please meet our first guest Chef Alex Chen.  Pure Gold!
/blvdyvr on Facebook / @blvdyvr on Twitter and Instagram.
Susana Trilling – Seasons of my Heart  –  Oaxaca, Mexico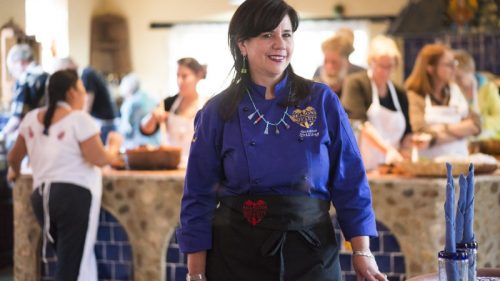 SusanaTrillingOaxaca (Wha-haka) is the home of traditional Mexican cooking. It's also the epicenter of Mescal and Mole Sauces.
How lucky was I to find a place to sit in the shade in a small courtyard and see her sign right in front of me?
Surely,  here was a perfect guest for the show. A chef and author who discovered the historic centre of true Mexican cooking and never left. Teaching and advocating as she went.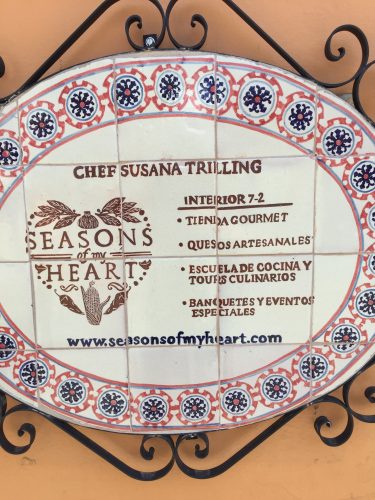 Check out just a small part of Susana's personal history.
Susana Trilling is a chef, teacher, caterer, author, TV hostess, food consultant and director of Seasons of My Heart Cooking School and Sazon de Mi Corazon S.A. de C.V., producing gourmet Mexican products.
She owned 2 NYC restaurants, a restaurant in Fremantle, Western Australia and has lived in Oaxaca since 1988, where her two sons were born and raised on her ranch outside of the city.
She wrote My Search for the Seventh Mole and Seasons of My Heart; A Culinary Journey through Oaxaca, Mexico to accompany her 13 part PBS series, that ran for 6 years.
A renowned authority on Oaxacan cuisine, Susana has filmed and hosted numerous TV programs in addition to her own series including: Two Hot Tamales, Mexico – One Plate at a Time with Rick Bayless A Cooks Tour with Chef Anthony Bourdain, Andrew Zimmern's  Bizarre Foods, The Diary of a Foodie, and Jeff Corwin's series Extreme Cuisine.
. She was awarded a Lifetime Achievement Award at the Oaxacan International Food and Wine Festival in 2002 and in 2012 was presented with the Espiga de Oro Award for her work promoting Oaxacan cuisine internationally. She has been featured at many Food and Wine and Cacao Festivals and been a celebrity chef at CIA San Antonio's annual Paella Challenge.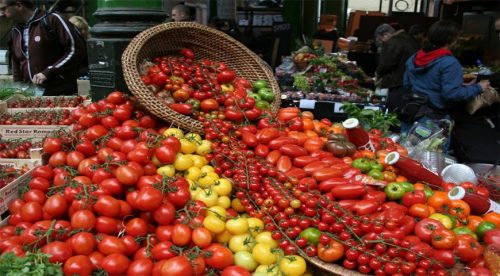 Susana's company, Sazon de mi Corazon, SA de CV produces the Seasons of My Heart line of gourmet Mexican food products available internationally in both retail and food service presentations.
She is a member of Slow Food, IACP, The Mexican Mycology Association and is currently promoting her newest book, titled  FromMilpa Seed to Salsa, written in collaboration with CEDICAM and others about rural Mixtecan farmers in Oaxaca, their system of growing organically and sustainably and the recipes that result.
Please enjoy this mid-afternoon chat with Susana Trilling. If you get a chance please Google her complete history. It's fascinating.
Oaxaca City is quite simply an amazing city, full of sensational food, extremely friendly people and fantastic history! Go VISIT!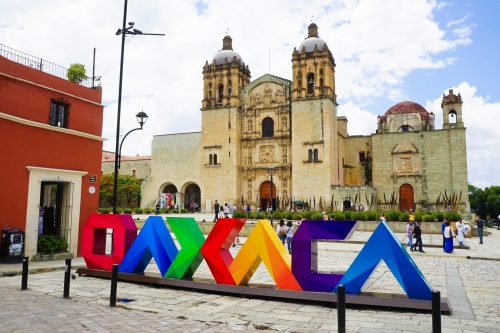 Paola Manriquez – Manager of La Contra  Mexican Wine Store in Oaxaca
 Paola was nervous that her English wasn't good enough for radio.
I was concerned that I would butcher every label pronunciation.
Somehow we managed to pull it off.
We won't ever see a lot of Mexican wines in Canada. A basic fact of life there is that Tequila has the inside political track and the Government's attention. Not surprisingly, the Mexican government makes it almost impossible to export or even carry their wines back home with you.
It's a damn shame because their wines are getting so much better as young winemakers learn their craft in the USA and then return to bring change to the wines back home.
I was delighted to find La Contra open for business and selling only small independent local and regional wines with Ensenada and the Guadalupe Valley leading the way.
There are La Contra stores opening across Mexico, so keep an eye out.
Calle Gomez Farías 212-B
Colonia Centro C. P. 68000
Oaxaca, Oax.
Tel. 01 951 5152335 o 5157977
Cel. 9515471082
Alison Moyes  – Winemaker.  Liquidity Wines (OK Falls)  Wins Gold at Chardonnay du Monde
Liquidity Wines estate-grown 2016 Chardonnay Reserve has been listed as the number one wine in the Top 10 Chardonnays to receive Gold medals at the recent 2018 Chardonnay du Monde Awards.
The Awards recognize the world's best Chardonnays as evaluated by a panel comprised of 300 international experts. This year, 679 wines from 39 countries were tasted by the judges.
Liquidity's award-winning 2016 Chardonnay Reserve features layered aromas of toasted almond, pear and peach with a subtle whisper of allspice. Complex yet well-balanced, the wine captures flavours of lime zest, pineapple, lemon curd and intense minerality, and leaves a lingering finish on the palate. The wine will be available for purchase in April to Liquidity's Equity Tasting Club members, followed by Club Liquidity members ($42, plus tax); it will also be available in the winery tasting room in July (while supplies last).
Originally from Southern Ontario, Alison moved to Halifax  to attend Dalhousie University and pursue an interest in science, studying Microbiology. During this time, she had the opportunity to work at some of Halifax's finest restaurants. As her palate developed, she began to consider a career in winemaking and acquired a degree in Oenology & Viticulture from Brock University.
Following several seasons working in the Niagara region, the Okanagan beckoned. Alison brings experience from two top wineries in the Okanagan, having worked under Pascal Madevon at Osoyoos Larose and as Winemaker for Stoneboat Vineyards for five years.
The big surprise is that although she obviously can craft a world class Chardonnay, Alison at heart is a 100% Pinot Head.
When the Chard runs out,  as it certainly will, I urge you to taste the Pinot Noirs.
And the Viognier and Pinot Gris.  OK… just try everything!
Podcast: Play in new window | Download
STORIES WE'RE WORKING ON:
Parksville Unplugged and Untapped
IVSA Pour in Victoria
John Weber  (Orofino)
Joe Luckhurst (Road 13)
BC Cider Festival. North Vancouver
Locals Only – Granville Island
John Glavina – Giant Head Wines
Craig McAllister – Winemaker at La Crema Russian River
Gurvinder Bhatia – Edmonton Wine Expert ay VanWineFest
Naramata Bench Pours on the Coast
Spring releases from OK Falls