Tantalus. Adorada. Il Falcone & Colin Linden Remembers Aretha
 

Podcast: Play in new window | Download
Il Falcone –Chef Andrey Durbach  (Courtney BC)
 Andrey and Sian Durbach moved to the Comox  Valley, Vancouver Island almost  a year ago from Vancouver. They had been  running three downtown  Vancouver restaurants. High Tempo Rooms.
Before he became an outstanding graduate of the CIA,  Culinary Institute of America in NYC, he had first made a name for himself in Vancouver working with Bishop's, Il Giardino and Café de Paris.  He launched Etoile in 96.  There he learned the hard lessons of running a restaurant. Sold the place and hit the road re-learning the trade.
When Sian and Andrey returned to Vancouver 2 years later they partnered with Chris Stewart and opened Parkside, La Buca and Pied-a-Terre. Cafeteria followed with its $20 or less menu. My favourite was Sardine Can. A tiny room in Gastown.
No matter what the location I always noticed and liked his cooking.
Well,  imagine my delight to discover that Sian and Andrey had opened Il Falcone in downtown Courtney.
Why Courtney?
Andrey explains in the interview that he and Sian finally wanted to work for themselves and the best place was a former Mexican restaurant in Courtney. Surrounded by burnt yellow stucco walls enclosing  a courtyard filled with black cherry, fig and other fruit trees..you swear the restaurant was somewhere in Italy.  Perfect. We've been three times and all three we sat outside under those trees. Glorious.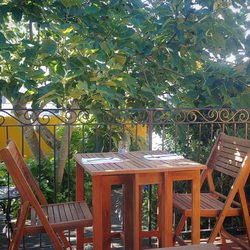 And the food?  To die for.
Italian dishes with no excuses..Nothing but the best. It helps that they're surrounded by hundreds of farms, fisheries specialists and foragers working the land. One of the best cheese makers in Canada is right around the corner.
Andre says he and Sian pretended to be Italians moving to the Comox Valley and they did what they'd do back in Italy..source and cook local. Cook like the Italians would.
The wine menu?  Almost exclusively Italian.
For anyone who's travelled to Italy..no matter what small town you were in, there would always be one Italian restaurant as its centerpiece. That's what they've tried to do here. Just off the beaten path..a discovery waiting to happen.
Is it worth the flight or ferry. Yes and absolutely yes.
As Andrey told Montecristo magazine..
 "My kind of diner is one who loves unctuous, delicious food, and is willing to chance the unfamiliar. It's a diner who knows and trusts the kitchen and the servers, a person who wholeheartedly invests in the visceral experience of a meal. This is what I'm after."
I guess the question for you is – are you that diner?
Margaret Leonardi – Adorada Wines (Mendocino)
 First and foremost, you should know that  Margaret has the expertise and training of a perfume maker. Wouldn't you want to know what her wines taste like?   
(They are very  affordable)
Margaret  began her winemaking career working with experimental grape varieties at Cottonwood Creek Cellars, where she ran a pilot program and crafted a number of awarded wines. From there, Margaret brought her expertise and adventurous spirit to Fetzer Vineyards, where her passion for exploring the novel characteristics of aromatic grapes, coupled with a desire to push the boundaries of conventional winemaking, translates to the intriguing wines of Adorada.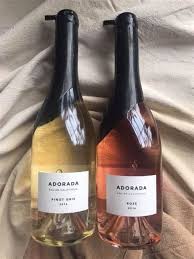 Adorada wines are crafted from premium California grapes in a sumptuously aromatic style, reminiscent of an ambrosial fragrance. Each bottle is finished with a luxurious draping of wax.
As Margaret notes:
We blended our Pinot Gris with a selection of aromatic white
grape varieties from premier vineyards throughout California.
Our highly aromatic Pinot Gris opens with Gravenstein apple,
Bartlett pear, honeysuckle and orchid on the nose.
A palate  of orange blossom, orange zest, lemon and honeydew
melon is underscored by a hint of delicate sweetness.
 For the Rosé blend, we selected a mix of aromatic red and white grape varieties from premier vineyards
throughout California.
Our Rosé opens with spice and ginger on the nose, balanced by fragrant aromas of red fruit and antique red Rose.
The palate is succulent and lightly sweet, with juicy watermelon and honeycomb flavors, framed by a zesty
hint of white pepper.
David Paterson – GM/Winemaker Tantalus (Kelowna)
Tantalus is situated on the eastern slopes of the Okanagan Valley, overlooking the shores of Lake Okanagan and Kelowna.
Originally known as Pioneer Vineyards, the site was first planted to table grapes in 1927 and today is known as the oldest continuously producing vineyard in British Columbia
David Paterson is a Kiwi and a Canadian, having been born in Vancouver. He received his winemaking degree from Lincoln University NZ & following time spent working in the local NZ industry he travelled the wine world gaining experience at premium wineries in Oregon, France & Australia.
He landed at Tantalus in 2009 and with many  successful vintages under his belt with the winery he took on the role of GM as well in 2016. Prior to joining Tantalus, David was working with celebrated South Australian producer Henschke Cellars.
As such he got to work the vineyards at the world famous Hill of Grace.  Riesling has always been the leader at Tantalus however, through  David's guidance Chardonnay, Pinot Noir and Blanc de Noir have caught our attention.
Outstanding wines and  leadership. That's David Paterson at Tantalus.
 Colin Linden – speaks of Aretha and his 2018 wines.
 We know Colin as a member of one of Canada's finest bands, Blackie and the Rodeo Kings.
We also know him as a solo performer with a history of great albums.
As a producer, writer and player he's worked with Bob Dylan, Emmy Lou Harris, Robert Plant and Allison Krause, Lucinda Williams and produced many of Bruce Cockburn's greatest albums.
When Aretha Franklin passed away I remembered a story Colin had told me about sharing a room and a stage with The Queen of Soul.
The "Room" was a ballroom at The White House and the stage was filled with an amazing collection of artists. Producer  T Bone Burnett asked Colin to play guitar in the "house band" and that's how he found himself watching Aretha rehearse in the afternoon. (sitting in the chair that would belong to The President Barack Obama later that night. That chair.)
Later that night Colin and Aretha got a chance to talk.
I value Colin's memory of Aretha and her very special place in music.
Then, as always, Colin and I finish off all our conversations with wine talk.
Whaddya drinking?  What's the house pour?
He never fails to surprise me.
Enjoy!!  (pair some Aretha this weekend with your wine)
www.blackieandtherodeokings.com 
Podcast: Play in new window | Download
STORIES WE'RE WORKING ON
The Cowichan Wine festival
Heading back to the Okanagan.