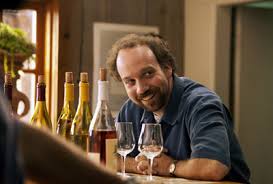 THE SHOW
 

Podcast: Play in new window | Download
Jack : If they want to drink Merlot, we're drinking Merlot.
Miles Raymond : No, if anyone orders Merlot, I'm leaving. I am NOT drinking any f#*king Merlot!
Somewhere on this website  is the famous Merlot scene from the film  Sideways, spoken with outrage and indignation by the sublime Paul Giamatti as Miles Raymond, failed writer and wine snob.
The film came out in 2004 and the sales of Merlot dropped like a stone. In some markets it has  never really recovered.
(Director and Writer Alexander Payne starts the show)
I had this nagging question hanging over me for a while now.
Is BC Merlot being taken for granted? Has it lost its luster and ranking to the wine fan?
The most planted grape in BC is Merlot  but, except for Vancouver Sun wine writer Tony Gismondi, I'm not seeing a lot articles or headlines on BC Merlot.
In the next hour you'll hear from many of BC's Best Merlot winemakers. Many of the questions are the same…
Is Merlot being taken for granted?
What was the effect of Sideways?
What makes BC Merlot outstanding?
When did you fall in love with this grape?
Have we all changed our wine tastes?
Many of the questions were the same ..but the answers were  all wildly different.
Our 12   Merlot guests include
Alexander Payne – Screenwriter and Director of Sideways https://www.imdb.com/name/nm0668247/
Rhys Pender – Master of Wine   http://www.wineplus.ca/
Mary McDermott – Winemaker at Township 7  https://www.township7.com/
Mike Raffan – GM at Township 7   https://www.township7.com/
Phil McGahan – Winemaker at Checkmate Wines. (Winner: 2017  Judgement of BC) https://www.checkmatewinery.com/
Jeff Harder –  Co-Owner Ex Nihilo  https://exnihilovineyards.com/
Peter Lindenlaub –  Wagner Family Wines (Napa)  http://www.wagnerfamilyofwine.com/
Kane Morgan –  Co-Owner Rust Wine https://www.rustwine.com/
Joseph Luckhurst –  Managing Partner  Road 13  http://road13vineyards.com/
Larry Gerelus – Co-Owner  Stags Hollow  (OK Falls) https://stagshollowwinery.com/
Rob Summers – Senior Winemaker at Hester Creek  http://hestercreek.com/
Michael Bartier –  Co-owner  and Winemaker at Bartier Bros  http://www.bartierbros.com/
https://en.wikipedia.org/wiki/Merlot
FYI – International Merlot Day is Nov 7th
Podcast: Play in new window | Download
STORIES WE'RE WORKING ON
Dilettante – the new wine from Sommelier of the Year Shane Taylor wine director at Cin Cin.
Not just any wine.  It's the first from Okanagan Crush Pad's Garnet Valley Pinot Noir. It also raises funds for BC Hospitality Fund.
Interviews with Christine Coletta Co-Owner of Okanagan Crush Pad and 2018 winner of Founders Award.
Fall Wines