Shane Taylor's  'Dilettante' Garnet Valley Pinot Noir 2017
THE SHOW
Podcast: Play in new window | Download
There are three different elements in today's show title.
First is Shane Taylor. Sommelier of the Year. As the winner, Shane gets  to
make a small lot wine using the grape variety and style of his choice.
Second is Dilettante  the wine that Shane created.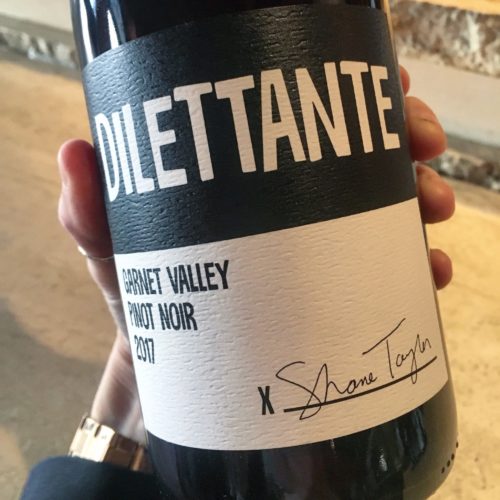 If you've followed BC wine news, you'll know that  Okanagan Crush Pad is on
a roll. A 45,000 case roll. However, if you talk to ANYONE at OCP what they
really want to talk about is Garnet Valley, the vineyard above Summerland
that they've planted with the next generation of vines. The star of the
valley will almost certainly be Pinot Noir. Shane's Dilettante just happens
to be the first Pinot Noir release from Garnet Valley.
The Third element is Garnet Valley itself. Currently it's the highest
planting in the Okanagan. With the winemaking and growing skills of Alberto
Antonini and Pedro Parra in play, you know this valley is about to become
very much talked about and admired. Plus its organic all the way.
Last week, Shane Taylor and Christine Coletta from Okanagan Crush Pad
debuted Dilettante at CinCin on Robson Street in Vancouver.
Shane Taylor is the Wine Director in this very popular restaurant. That means he gets to
pour his own wine for diners in the room.  How cool is that?
Christine Coletta  – Okanagan Crush Pad
Okanagan Crush Pad was founded on a long history of friendship, a mutual
respect for land and wines that articulate "place", a love of music and
admiration for one-another's accomplishments. When friends come together in
this fashion, wine flows naturally and easily.
The journey began in 2005 when David Scholefield convinced Christine Coletta
and Steve Lornie to plant a small vineyard in Summerland.
David had a vision for the Okanagan, a young wine region that was trying to find its soul.
Christine and Steve, who have a well-earned reputation of making projects
come to life, began putting his plan in place, first by farming, albeit in a
conventional manner, with the idea to craft wines that were as naturally
beautiful as the Okanagan.
David persuaded Alberto Antonini and Pedro Parra
to come to the Okanagan and with their arrival, conventional thinking went
out the window and a new plan to push the envelope took center stage. Today,
that small vineyard, Switchback, is certified organic.
The team has built a state of the art winery, Okanagan Crush Pad, in Summerland, BC and
established a thriving custom crush business. Winemaker Matt Dumayne heads
the winemaking team, working with Alberto to craft pure wines that
articulate the message of the place where these wines are grown.
On the farming side, Christine and Steve purchased a 320-acre Summerland site,
where Pedro has designed a vineyard that could be created on virgin soil.
There, on Garnet Valley Ranch, 40 acres of a potential 60 acres have been
planted according to the principles of precision viticulture. The ranch is
also home to 8 acres of organic field crops and a herd of sheep, guarded by
two lovely Great Pyrenees dogs
It was important that Christine Coletta starts this  show. CC is co-owner of
OCP.
We talked about Free Form, her new natural wine that is made the old
traditional way before modern conveniences came along and changed wines.
As Christine says –
"The label of natural wine is very controversial. Like any wine style there
are great ones, good ones, mediocre ones and awful flawed examples. If you
are a wine professional and you sum up the style and say you don't like it –
in my mind you have no credibility. You haven't done your homework, you haven't tasted enough and you fail to recognize that many of the old wine classics from France and Italy are made this way – without additives or high amounts of sulphur"
We also talk about "aging" BC wines…whites and reds.
Christine talks about her  2016  Gamay which was sold to the Norwegian
Liquor Monopoly and 600 cases of portfolio wines were sold to a distributor
in Texas.
We touch on Haywire and other wines they produce.
And of course we talk about "The Bub",  their bubble that's getting
headlines.
However, as Christine mentions, Dilettante is very special because it's the
first Pinot Noir from Garnet Valley and shows the way to the future of that
planting.
Finally we talk about Christine receiving The Founders Award at the Okanagan
Fall Wine Festival. It recognizes Christine's work. As founding executive
directorfor the BC wine institute, She helped shape VQA and co-founded Wines
of Canada.
Perhaps her greatest achievement was to be part of the leading edge of
Canada's organic farming and winemaking movement.
Her most recent project is on the team that formed the Okanagan Wine
Initiative. Seven BC wineries who united to share resources and to partner
on various projects internationally, across Canada, and in their home
market, British Columbia.
Shane Taylor – Wine Director CinCin
Shane brings an impressive résumé in service, having worked at the Relais
Gourmand White Barn Inn in Kennebunkport, Maine as well as serving at
Glenapp Castle and Chapter One, both Michelin-starred.
In addition, he has achieved impressive accreditation in gaining both his WSET Diploma in Wine
and Spirits, as well as his Advanced Sommelier's certificate from London's
Court of Sommeliers, one of the most senior and prestigious recognitions in
the wine world.
For the record Dilettante is Garnet Valley Pinot Noir 2017. 600 liter
barrels, rolled by hand. Two tonne stainless steel open top fermenters.
Four weeks on skins, basket pressed in large oak vessels and concrete tanks.
Then blended  and bottled unfiltered mid August 2018.  56 cases/12.5%.
Price $29.90
Currently, if you wish to try this groundbreaking Pinot Noir, make your way
to CinCin on Robson Street where Shane is the Wine Director  or contact
Okanagan Crush Pad.
https://cincin.net/about/team/
Dana Harris – Executive Director BC Hospitality Foundation
The British Columbia Hospitality Foundation is a charity that raises funds
to support those in the hospitality industry facing financial crisis due to
a health issue. Each year hundreds of hospitality workers across BC face
financial challenges and have nowhere else to turn. The BCHF helps them when
all other options have been exhausted.
BCHF also supports students wanting to pursue  higher level wine education.
A portion of the proceeds from the sale of Dilettante will go the BCHF. Dana
explains who qualifies and why.
Wines sales from previous winners
Kurtis Kolt-Owen Knowlton-Terry Threlfall-Samantha Rahn-Mike Bernardo-Jason
Yamasaki-Jill Spoor have raised over $30,000 for BCHF.
<https://bchospitalityfoundation.com/> https://bchospitalityfoundation.com/
Podcast: Play in new window | Download
STORIES WE'RE WORKING ON: 
The Judgment of BC  – 2018
Bubble and Blends.
Blasted Church
Fort Berens