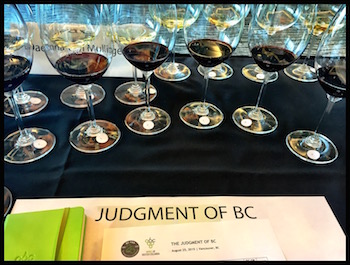 THE SHOW
Hosted by the BC Wine Institute, and curated by the best in the business,
wine expert DJ Kearney, the Judgment of BC took place in Kelowna several
weeks ago.
Podcast: Play in new window | Download
I was pleased and honoured to be part of thirty nine international/national
wine judges.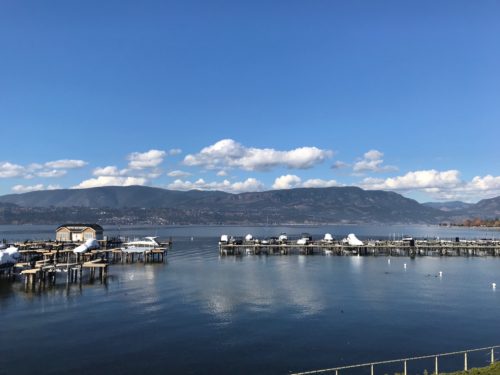 We blind tasted and ranked the 24 wines.
12 were traditional method sparkling wines and 12 were Bordeaux-style red
blends.
6 of each were from BC and 6 were international benchmarks.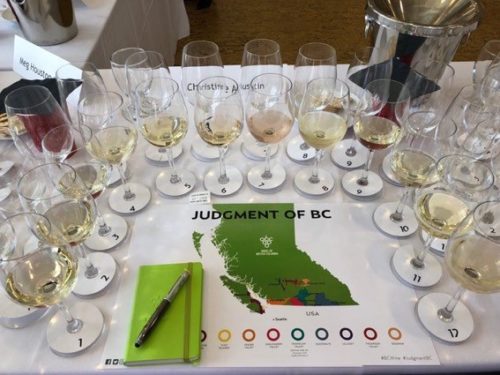 After ranking the wines, we then had to say whether the wines in question
were from BC or the World.
Some were easy. Many were impossible.
That's a good sign.
Final Results at the bottom of the page
"The annual Judgment of B.C. allows us to gain insights and knowledge into
how we compare internationally," said Kearney. "Introspection is a critical
part of ensuring we continue to make high quality wines, and also allows us
to collectively celebrate as an industry. We have so many reasons to be
proud, and the future is very bright." Global News.
Our guests include:
DJ Kearney – WineDistrict.ca
Kurtis Kolt – The Georgia Straight
Michaela Morris – Educator and expert
Rhys Pender – Master of Wine
Mark Filatow – Owner/Executive Chef Waterfront Bistro
Ingo Grady – President of Poplar Grove Winery.
SPARKLING WINE RESULTS
1. Roederer Estate Anderson Valley Brut NV California | 12% | $46.99
2. Champagne Veuve Clicquot Brut NV France | 12% | $69.99
3. Champagne Pierre Paillard Les Parcelles Bouzy Grand Cru Extra Brut XIII
France |12.5% | $67.99
4. Blue Mountain Vineyard & Cellars Blanc de Blancs R.D. 2010 Okanagan
Valley, BC | 12.5% | $39.90
5. Noble Ridge Vineyard & Winery The One 2012 Okanagan Valley | 12.0% |
$47.90
6. Sperling Vineyards Brut Reserve 2011 Okanagan Valley, BC | 11.5% | $50
7. Graham Beck Brut Zero 2011 South Africa | 12% | $29.99
8. Tantalus Vineyards Blanc de Noir 2015 Okanagan Valley, BC | 12.0% | $30
9. Segura Viudas Heredad Brut Reserva Spain | 12% | $33.99
10. The View Winery Pearls Traditional Brut 2016 Okanagan Valley, BC | 11.8%
| $30
11. Fitzpatrick Family Vineyards Fitz Brut 2015 Okanagan Valley, BC | 11.6%
| $32.99
12. Mumm Napa Brut Prestige NV California | 13% | $25.99
RED BLEND RESULTS
1. Poplar Grove Winery The Legacy 2014 Okanagan Valley, BC | 14.0% | $52
2. Laughing Stock Vineyards Portfolio 2015 Okanagan Valley, BC | 14.9% | $50
3. Blackbird Arise 2015 Napa Valley, California | 14.5% | $86
4. Dominus Estate Napanook Napa Valley Red 2014 California | 14.5% | $125.99
5. Intersection Estate Winery Axiom 2014 Okanagan Valley, BC | 13.9% | $39
6. Chateau Poujeaux 2015 Moulis-en-Médoc, France | 14% | $65
7. CedarCreek Estate Winery The Last Word 2014 Okanagan Valley, BC | 14.6% |
$84.99
8. Osoyoos Larose Estate Winery Le Grand Vin 2015 Okanagan Valley, BC |
14.0% | $45
9. DeLille Cellars D2 2013 Columbia Valley, Washington State | 14.3% | $85
10. Clos du Soleil Winery Signature 2014 Similkameen Valley, BC | 14.8% |
$45
11. Chateau de La Dauphine 2015 Fronsac, France | 14.5% | $50
12. Chateau d'Armailhac Grand Cru Classé 5th Growth Pauillac, France 2015 |
13.5% | $90
Podcast: Play in new window | Download
STORIES WE'RE WORKING ON:
Winter White Wines?
(Do they exist? What are they?)
Cornucopia
Fort Berens
Other stuff