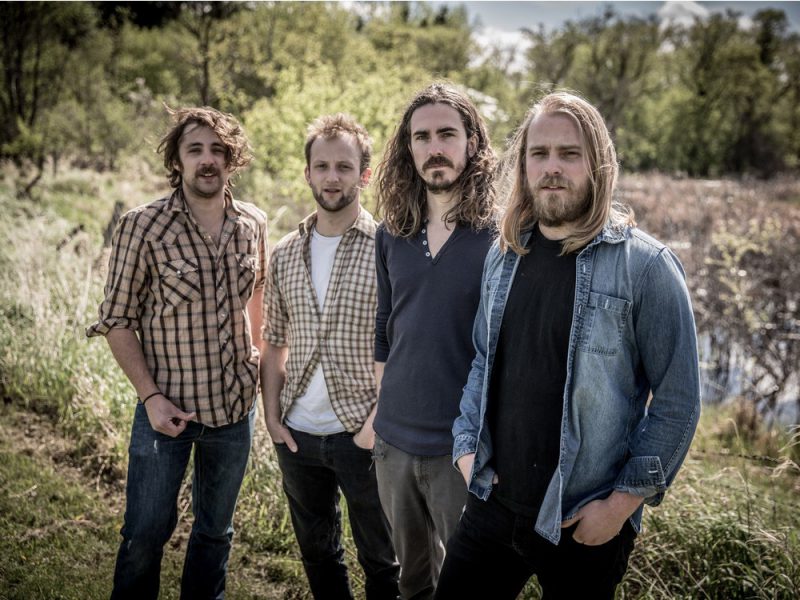 This show is dedicated to Monica Miller – fellow CKUA show host. 
The Bros Landreth guest on today's Stew.
We find them at the Bear Creek Festival co-headlining the first of two nights there.
FYI – Those 2 nights are the only Canadian dates for The Bros this year. They are the rest of this year to be road warriors in the USA, the UK, CKUAand Europe.  (Next year, they'll be back in Canada with a vengeance)
David and his younger brother Joey come from an amazing musical background.
Father Wally was a serious musician in Winnipeg. The house was loaded with instruments and lots of music.
Naturally, the boys picked up guitars and listened to Ry Cooder, Little Feat, all the greats.
That's why their music has so much soul and depth. Very few bands have had this kind of schooling or were open to it.
And that's why I believe The Bros. Landreth will be loved all over the World.
They already have the most bizarre profile in the UK  and Europe.  How does a band from Winnipeg get to play in Norway or Sweden or Liverpool?
The Bros Landreth also have an ace-in-the-hole.
It's Joey and his solo career. Boom. Through the roof. His current album Hindsight has fans jumping on the bandwagon.
After Bear Creek, the brothers are headed for the Americana Festival in Nashville. If anyone can steal a show its these guys.
As for the rest of  The Stew …
Live tracks from
Van Morrison
Joe Cocker
Brandi Carlile – with the Seattle Symphony
AND Little Feat.
New music from…
Brittany Howard
Little Steven
Chrissie Hynde
Bruce Springsteen
Leeroy Stagger
Sheryl Crow/Bonnie Raitt/Mavis
Rodney Crowell and Bill Gibbons
Throw in…
Led Zep
Beach Boys
U2
Neil Young
Marvin Gaye
Dave Mason
Procol Harum
This show is dedicated to Monica Miller:
PLAYLIST:
| | | |
| --- | --- | --- |
| Mulligan Stew | Aug 17 2019 | |
| TD Mulligan – The Stew | Playlist – www.mulliganstew.ca | |
| Only you know and I know | Dave Mason | Alone Together – All Day Thumb Sucker Revisited |
| Love again | Little Steven and the Disciples of Soul | Summer of Sorcery |
| How glad I am | Chrissie Hynde | Valve Bone Woe |
| www.mulliganstew.ca | Todays guests – The Bros Landreth | |
| Surfs Up | The Beach Boys | Good Vibrations Boxed Set |
| www.deanehouse.com | Todays guests – The Bros Landreth | |
| Stay High | Brittany Howard | Stay High |
| Smokey Part 2 | Bill Black Combo | best of |
| Brown Eyed Girl (live) | Van Morrison | Too late to stop now 1973 |
| Feelin Alright (live) | Joe Cocker | Joe Cocker Live |
| a whiter shade of pale | Procol Harum | Hits and Flips |
| Sixty Years On (live) | Brandi Carlile and Seattle Symphony Orchestra | Live at Beneroya Hall |
| This is Mulligan Stew | Guests in 10 minutes – The Bros Landreth | |
| Tucson Train | Bruce Springsteen | Western stars |
| Deeper Well | Leeroy Stagger | Strange Path |
| This is Mulligan Stew wth tdm | NEXT – The Bros Landreth | |
| Forty Four -How many more years | Little Feat | Rad Gumbo |
| David and Joey – The Bros Landreth | Complete interview on Mulligan Stew Podcast | www.mulliganstew.ca |
| Got to be you | The Bros Landreth | 87 |
| David and Joey – The Bros Landreth | Complete interview on Mulligan Stew Podcast | www.mulliganstew.ca |
| Good Love | The Bros Landreth | 87 |
| Find the Bros Landreth Podcast | www.mulliganstew.ca. Spotify.google play.apple pod | |
| Live Wire | Sheryl Crow. Bonnie Raitt. Mavis Staples | Live Wire |
| Summer of Love | U2 | Songs of Experience |
| 56 Fury | Rodney Crowell and Billy F Gibbons | Texas |
| Heart of Gold | Neil Young | Harvest Moon |
| www.coyotesbanff.com | www.mulliganstew.ca | |
| I like it like that | Pete Rodriguez | Chef Soundtrack |
| Pride and Joy | Marvin Gaye | Greatest Hits |
| Thanks for checking out The Stew | Have a great weekend | |
| Goin' to California | Led Zepellin | Zep 4 |
| | | |