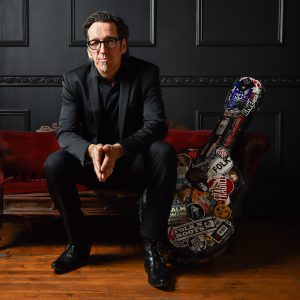 Good Bye November..and thanks for the Thanksgiving double dip
And the Grey Cup Game.  And  Holger's 78th anniversary!
Kicking off the last Stew in November..our guest is Stephen Fearing who proudly brings with him the tracks from his new solo album The Unconquerable Past.
Stephen hunkered down in Winnipeg, surrounding himself with musicians who brought all of his songs to life.
Stephen pulled off the side of the road to do this interview.  He's that kind of guy.
The rest of The Stew includes a "Sisters Set" featuring
Tegan and Sara
Joseph
First Aid Kit
Live tracks from  Bonnie Raitt and John Prine, Matt Anderson and  Tower of Power Knock yourself out!
Snarky Puppy, Jimi Hendrix, Lake Street Dive, The Honeydrippers, Otis Redding, Van Morrison, Annie Lennox, Aretha, Mark Knopfler,  Marcus King, and Leeroy Stagger
Goodbye November. Thirty days of wet leaves and bad hockey!
PLAYLIST:
| | | |
| --- | --- | --- |
| Mulligan Stew Nov 30 2019 | | |
| The Stew with TDMulligan | Special Guest – Stephen Fearing and his new album | www.mulliganstew.ca |
| rockin at midnight | the honeydrippers | Vol 1 |
| hard to handle | otis redding | soul manifesto 64-70 |
| three chords and The Truth | van morrison | three chords and The Truth |
| www.deanehouse.com | www.river-cafe.com | |
| Mulligan Stew | www.mulliganstew.ca | |
| living room | tegan and sara | if it was you |
| good luck, kid | joseph | good luck, kid |
| brother | first aid kit | America |
| www.mulliganstew.ca | Special Guest – Stephen Fearing – The Unconquerable Past | |
| Angel from Montgomery (live) | bonnie raitt and john prine | tribute to steve goodman |
| weightless (live) | matt anderson | live at olympic hall |
| what's the matter now? | david vest | david vest |
| Mulligan Stew Podcast – features the film Marriage Story | interviews with L Dern. A Driver. A Alda. Noah Baumbach | |
| wait in vain | annie lennox | medusa |
| knock yourself out (live) | The Tower of Power | 40th anniversary Live |
| www.mulliganstew.ca | Coming UP – Mark Knopfler. Lake St Dive. Jimi & Snarky Puppy | |
| doesn't even matter now | lake street dive | free yourself up |
| nobody does that | mark knopfler | down the road wherever |
| wildflower and wine | marcus king | eldorado |
| www.mulliganstew.ca | Coming UP – Stephen Fearing Interview | |
| caught in the middle | leeroy stagger | me and the mountain |
| www.coyotesbanff.com | Special Winter Menu | |
| all along the watchtower | jimi hendrix | electric ladyland |
| Terry Mulligan – The Stew | NEXT – Stephen Fearing Interview | |
| Quarter master | snarky puppy | ground up |
| www.mulliganstew.ca | Home of The Stew. Podcast and Tasting Room Radio | |
| Stephen Fearing Interview | The Unconquerable Past | |
| Marie | Stephen Fearing | The Unconquerable Past |
| Stephen Fearing Interview | The Unconquerable Past | |
| Christine | Stephen Fearing | The Unconquerable Past |
| Stephen Fearing Interview | www.mulliganstew.ca | |
| break our Mother's heart | Stephen Fearing | The Unconquerable Past |
| Stephen Fearing Interview | Complete Interview on Mulligan Stew Podcast | |
| stay with me | Stephen Fearing | The Unconquerable Past |
| Thanks for checking in | www.mulliganstew.ca | |
| I never loved a man (the way I love you) | Aretha Franklin | Never loved a man |
| | | |