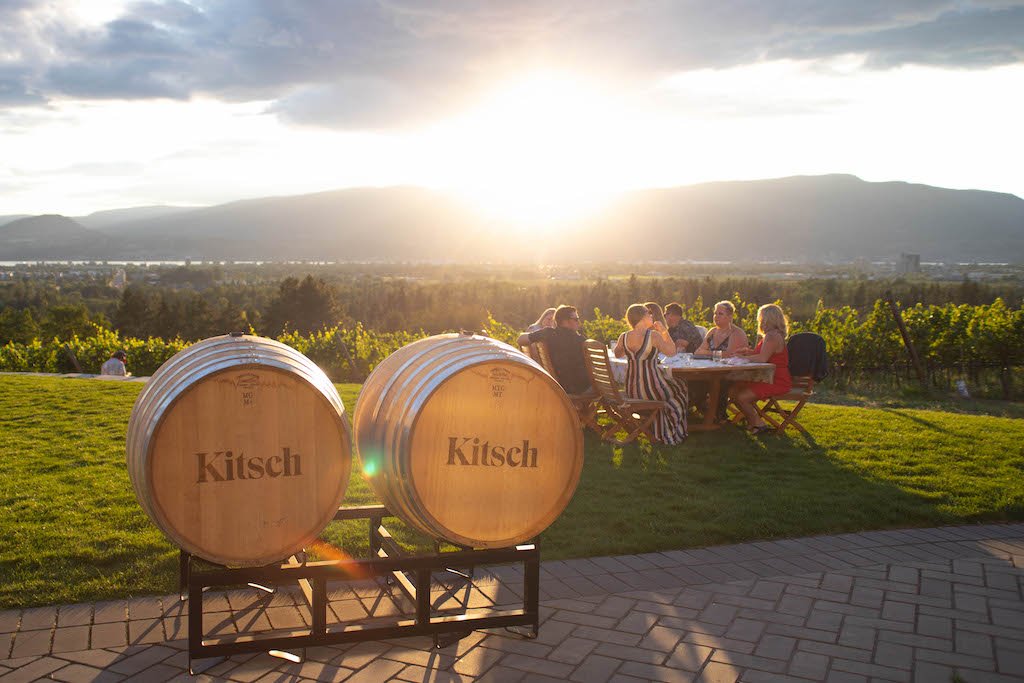 Randy Ullom Winemaker (Kendall Jackson) & Graham Pierce  Winemaker(Kitsch)
THE SHOW
 Randy Ullom – Master Winemaker and Senior VP
                              Jackson Family Estates and Kendall-Jackson Wines.
I cannot think of another winemaker who has stayed with the same winery for 28 years.
Randy oversees 12,800 acres of estate vineyards in cooler coastal California wine growing regions. One third each in North Coast, Monterey and Santa Barbara counties.
"I look at all of the vineyards we own, and all of the individual lots of wines that we make, and the thousands of barrels we have sitting in our cellar and sometimes I think, you gotta be kidding me! After I've sufficiently recovered from my daily panic attack, I take off my coat, dig in my heels and take it one barrel at a time. It's a rewarding job that I love."
  Hired by Jess Jackson in 1992 as Winemaker for some of their smaller and international vineyards, Randy was handed his most prestigious assignment in 1997 – Winemaster for Kendall-Jackson Winery.
A native of Ann Arbor, Michigan, Randy became interested in wine during a three-year stay in Chile, while on sabbatical from college in the early 1970s. His stay inspired a cross-country trek through Chile's vast wine-growing regions. On his return to the United States, he entered Ohio State University to study crop production with a specialty in Viticulture and Enology and received his degree in 1975.
After six years as a vineyard manager and Winemaker in Ohio and upstate New York, Randy moved to California to become associate Winemaker at De Loach Vineyards in Sonoma County. He was promoted to Winemaker and Vice President in 1991. The wines produced during his tenure were consistent gold medal winners at wine competitions.
Randy   looks like a Sheriff from Dodge City..Oversees the growing and creating of 5 Million cases of wine from 35 labels. (check their website below)
His job includes  working with wines grown in Sonoma, Chile, Bordeaux, Australia and Italy.
TASTING TODAY:
 Kendall-Jackson Vintner's Reserve Chardonnay – https://www.kj.com/wine/vintners-reserve/chardonnay
Kendall-Jackson Vintner's Reserve Sauvignon Blanc – https://www.kj.com/wine/vintners-reserve/sauvignon-blanc
Kendall-Jackson Vintner's Reserve Pinot Gris – https://www.kj.com/wine/vintners-reserve/pinot-gris
(Featured at Liquor Plus in July)
Kendall-Jackson, Jackson Estate Hawkeye Mountain Cabernet Sauvignon – https://www.kj.com/wine/jackson-estate/hawkeye-mountain-cabernet-sauvignon
(Will be featured at Everything Wine in July.)
Graham Pierce – GM and Winemaker at Kitsch
If the name is familiar it's because he has worked with and made wines at  Mt Boucherie, Time and for 10 years at Black Hills.
Graham had the toughest job in the Okanagan. Following in the footsteps of winemaker Senka Tennant, the creator of one of Canada's greatest blends Note Bene.
Graham carried the torch for 10 years and created a brilliant blend in his own distinctive style.  He's a pro.
Now he's going through much the same process at  Kitsch  #okanaganinaglass.  Winemaker Grant Biggs has moved on and Graham once again has the ability and talent to walk into the cellar and begin shaping his versions of Kitsch wines.
Graham walks us through:
2019  Pinot Gris
2019 Block Party (Riesling, P. Gris. Chard)
2019 Pinot Noir Rose (100% PN)
2018 Chardonnay (In partnership with tentree)
Congratulations to Trent and Ria Kitsch for having the smarts to survive the loss of their signature winemaker and then hire another outstanding creator who has shown himself to be capable of greatness, much like the wines he will make going forward.
#okanaganinaglass
STORIES WE'RE WORKING ON
Bella Wines
Rathjen Cellars
Cowichan Valley Wine Fest 2020
Hillside
Bartier Bros
Lock and Worth
Creek and Gully Cider
Hester Creek
Noble Ridge
Vanessa
The Grand Crew
Nichol
Cedar Creek
Ned Bell – Naramata Inn