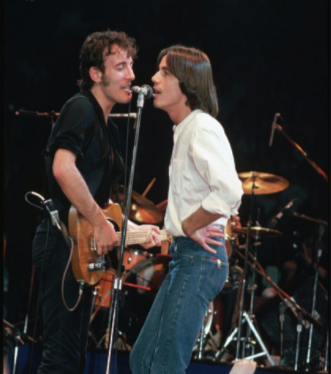 Are we really halfway through July??
I could use some tunes to smooth out the bumps on this road I'm on.
How about YOU?
On July 18th, 1973 Bruce Springsteen played the first of four nights at Max's Kansas City in New York City.
His opening act was smuggled into the country through  Canada. Wait until you hear who opened for Bruce.  It was their first gig ever in the USA. We'll play some original audio from the night and then two songs you know them for.
While we're thumbing through  the music calendar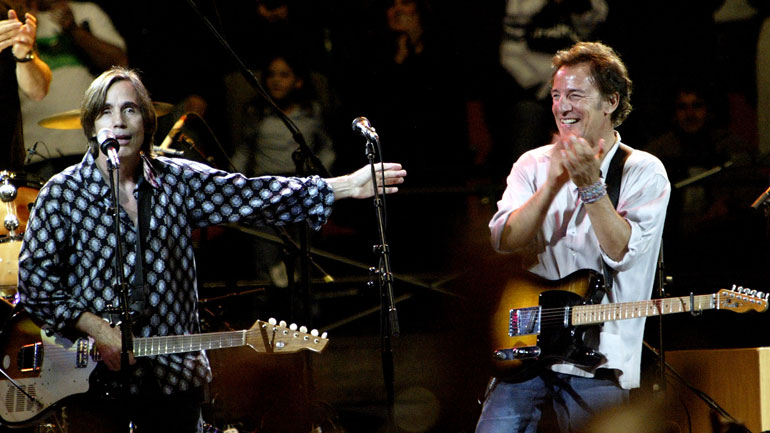 July 18, 1980 – at Cinema 1 in NYC – the first screening of No Nukes took place. We're going to play the encore with the artists who made it all happen Bruce Springsteen and Jackson Browne.
Whitehorse
Neil Young at The Last Waltz
Joey Landreth
Tom Petty and the Heartbreakers Live
Tower of Power, Dave Alvin, John Mayer, The original Fleetwood Mac, Billy Joel live at Yankee Stadium
Otis Redding, The  Clash, John Prine Linda Ronstadt, BB King and Eric Clapton, Taj, Robbie Robertson, And a bunch more.
Two hours of music. Top to Bottom.
Turn it up and enjoy!!
Let the music smooth your road.
Up Ahead:
The Mulligan Stew Podcast is Colin Cripps
Guitarist for Blue Rodeo and The Jim Cuddy Band..and a collector of rare guitars.
He runs 7 of them by the Zoom cameras and gives you a little history of each.
If you're a guitar geek – this is for you.

NEXT WEEK – We revisit special moments of past Calgary Folk Festivals.
Jim Cuddy band
Art Bergmann
Fishbone
And lots more.
PLAYLIST:
| | | |
| --- | --- | --- |
| Mulligan Stew | July 18 2020 | |
| Stay (live) | Bruce Springsteen. Jackson Browne | No Nukes |
| who do you love (live) | The Band – Ronnie Hawkins | The Last Waltz |
| desperado | Linda Ronstadt | Dont cry now |
| These arms of mine | Otis Redding | Stax-Volt Complete singles |
| www.eauclaire.ca | www.mulliganstew.ca | |
| www.mulliganstew.ca | Next – BB King and Eric. The Clash – Taj Mahal | |
| I fought the law | The Clash | Hits Back |
| Sound of silence | Pentatonix | The sound of silence |
| This is Mulligan Stew with TDM | www.mulliganstew.ca | |
| Hold on I'm Coming | Eric Clapton and BB King | Riding with the King |
| Atlantic City | The Band | Jericho |
| Once were brothers | Robbie Robertson | Sinematic |
| TDMulligan – The Stew | Coming UP – Neil Young. Tom Petty – Tower of Power | |
| Honky Tonk Women | Taj Mahal | Blue Light Boogie |
| Radiator Blues | Whitehorse | The fate of the World depends on this kiss |
| Hey Kids – It's The Stew with terrdavidmulligan | Ahead – Joey Landreth – Madeleine Peyroux – Billy Joel twice | |
| Helpless (live) | Neil Young and The Band | The Last Waltz |
| Forgiveness | Joey Landreth | Hindsight |
| Won't back down (live) | Tom Petty and The Heartbreakers | The Live Anthology |
| Everything I do – gonn be funky | Madeline Peyroux | Secular Hymns |
| www.nobleridge.com | www.mulliganstew.ca | |
| Nothing stopping us now | Tower of Power | Best of |
| Three Little Birds | Bob Marley and the Wailers | |
| All that Heaven will allow | Bruce Springsteen | Tunnel of love |
| [email protected] | Coming UP – Dave Alvin – John Mayer – Fleetwood Mac – B Joel | |
| Gary, Indiana 1959 | Dave Alvin | Eleven Eleven |
| Helpless | John Mayer | Wave Two |
| Lemon Squeezer (live) | Fleetwood Mac – The original | Live The Shine 1969 |
| New York State of Mind (live) | Billy Joel (Yankee Stadium) | Live through the years |
| I've been working (Live) | Van Morrison | A night in SF |
| | | |