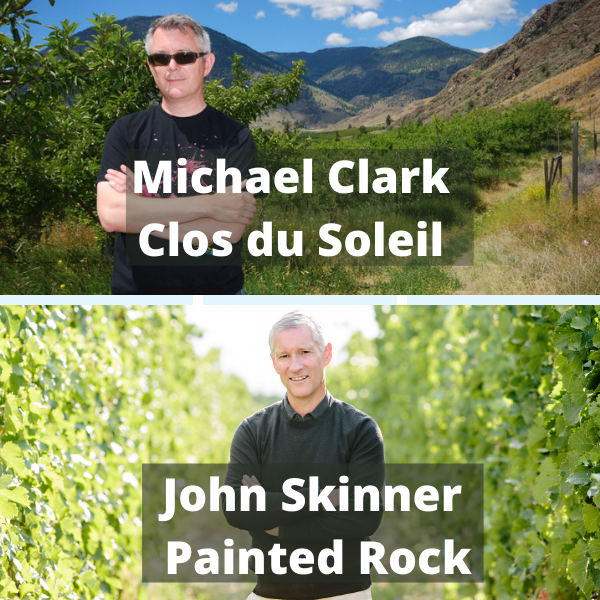 THE SHOW
For all you wine fans looking to step up the quality of your weekly wines and then cellaring the same,  this week's Tasting Room has two of the best wineries and wine leaders in one show.
Michael Clark – Clos Du Soleil
Michael Clark is the GM and Chief Winemaker at Clos du Soleil in the Similkameen Valley.
"we're borrowing an aesthetic derived from Bordeaux – the art of blending – stamped with the flavors and aromas of Similkameen soil. "
Clos du Soleil takes great pride in creating delicate wines, featuring beautifully ripe fruit and an amazing minerality. The "soil" in the Similkameen Valley is hard and unforgiving. However, if you can get the right vines to exist in that soil..the results are highly rewarding. For them and especially for you.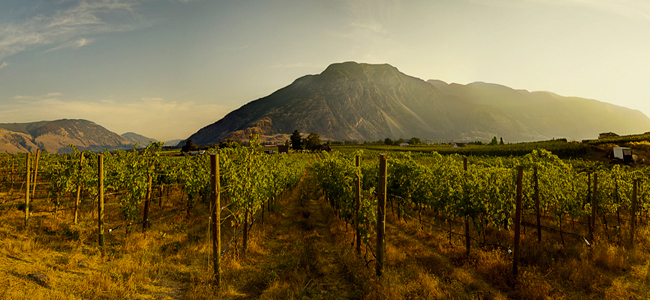 Michael is proud to taste and talk about these three wines, any one of which has the flavor and texture components to become your next go-to wine.
Chardonnay 2019
Pale Yellow. Scents of apple, lemon, and floral notes. On the palate lemon, pineapple, and a classic Similkameen minerality. No new oak but 8 months in barrels. Gently filtered just prior to bottling. $22.90.  A beauty!
Semillon 2019
Pale yellow. Aromas of pear, yellow apple, and lemon.
The palate is soft. A wonderful texture of ripe apple, peat, apricot, vanilla, and herbs.  Mostly fermented in stainless steel tanks but also some time in French oak puncheon.  Prior to bottling,  the barrel and tank components were blended and lightly filtered. $21.90.  More evidence that Semillon has a place in BC Wine.
Estate Reserve Red 2016
33% Cab/32% Merlot/20% Cab Franc/12% Petit Verdot/3% Malbec
Aromas of spice, cedar box, ripe black fruit, forest floor.
The palate combines black currant, licorice, and graphite. Tannins lead to a beautiful texture and mouthfeel.
This is just a beautifully structured joy.
Next time you have wine friends over and they're going on about Bordeaux this and Napa that ..sneak this wine into the tasting and watch the smiles when you tell them who made it and where it's from. $54.90
Fyi – The Signature 2016 won Gold at the Decanter Awards. Congratulations to the winemaking team.
---
John Skinner – Proprietor of Painted Rock
Painted Rock Estate Winery was founded with a family legacy in mind by John and Trish Skinner in 2004. Named InterVin International Winery of the Year for 2018/2019, the winery produces primarily Bordeaux red varieties, along with a Chardonnay, Rosé, and Syrah.
The star of the winery is Red Icon – a true Bordeaux blend.  2017  has been nominated for Wine of the Year at the Decanter Awards.  Results in January! That's a game breaker for any BC wine.
It's been quite a year for John, his family, and his staff. Surrounded by wildfires, they were protected by the First Responder firefighters this summer. On the ground and especially in the air. The smoke from the fires spared the vineyards plus the smoke was blown south.
John got a great mention in the recent  NY Times article on BC Wines.
If anyone is going to lead BC wine into a World profile it very likely will be John Skinner and his peers.
Here's what we tasted with Painted Rock.
Painted Rock  2016 Estate Grown Merlot
Clones 181 and 347. Hand-harvested, the wine was aged 18 months in French Oak. 30% was new.
Beautifully structured. There's nothing flabby about this Merlot.
Is this the key to their award-winning blends?  Don't bet against this Merlot.  Spectacular. The $34.99
Painted Rock 2016 Estate Grown Syrah.
Clones 99 and 100.
18 months in 30% New Oak.(80% French. 20% American)
And the other 70% was French Oak.
White and Black pepper abounds. Sage and lavender, all in one bottle.
If you can give this Syrah another couple of years in bottle, the reward should be outstanding.
If you can't wait..it's a really fine pour right now. $39.99
Painted Rock 2017 Estate Grown Red Icon
38% Merlot/21% Cab Franc/20% Petit Verdot/11 Cab/8Malbec/2% Syrah.
I ask John if the Merlot drives this bus.  He says it's actually the 2% Syrah.
Notes of ripe black fruit, cassis, and whole nutmeg.
The palate reveals more black fruit, chocolate, and blueberry.
The tongue lingers on the smooth full texture and clean acidity.
It will get better and better with each vintage and each year in bottle.
Just like the owner, a true Icon. $59.99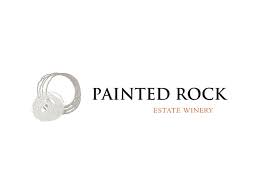 STORIES WE'RE WORKING ON
Zoom tasting at Yalumba
Maenam – The book
Noble Ridge
Sandra Oldfield – Back Again!!
Vanessa
Year 8 – The Four F's in Kettle Valley
(Food. Fishing. Friends. Fluids)
Mayhem and Meyer – All in the Family
Fonseca Zoomathon from Portugal
Dining at Row 14 in Cawston
Sam Roberts – Music and Wine