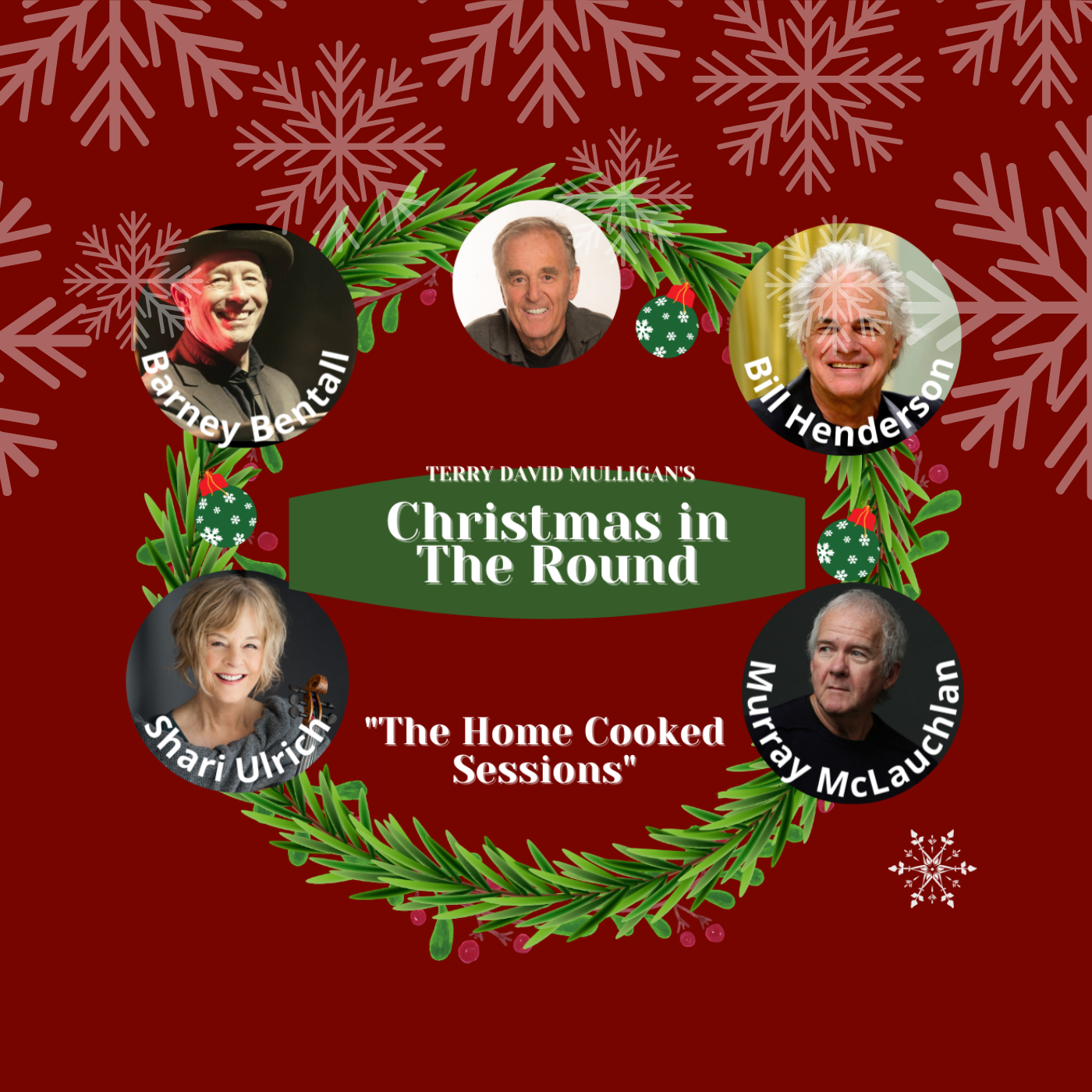 Christmas in the Round began in the late '70s in an old CBC  radio studio – How Old? It was above the lobby of the Hotel Vancouver.
Back then it was called Christmas Jam.
Through the guidance of Producer Susan Englebert, Shari Ulrich, Roy Forbes, Terry Frewer, Claire Lawrence and myself told Christmas stories and sang Christmas songs. Guests over those years included Valdy, Colleen Peterson and many more.
We lost our dear friend Susan Englebert to Cancer and we dedicate these shows to her memory. Her best guidance on the day was to hide the wine between songs.)
The whole idea disappeared with losing Susan and getting on with our lives and careers.
When Don Shafer created Roundhouse Radio in Vancouver Shari and I started talking about bringing back the concept as  Christmas in the Round.  Here we are at Year 4.  Guests have included  Barney Bentall, Bill Henderson, Jim Byrnes, Roy Forbes, Craig Northey, Shawn Verreault, and more.
This year we gathered on Side Door Access to raise funds for Food Banks in Toronto, Salt Spring island, and Potluck Café Society – East End of Vancouver.
The music and stories you hear came from that Web Broadcast. We thank  Shari Ulrich Mark Busse and  all involved.
Plus  Duke Paetz at CKUA for the huge assist and Corey Wood for online creative and hand-holding.


This years Guests and their songs
BARNEY BENTALL – BOWEN ISLAND
Sending out a message to you –
Disappearing 
(co-write with Murray)
From Murray's  Gilliver's Taxi.  1996    Produced by Barney
Song also appears on BTU – Bentall-Taylor-Ulrich album Tightrope Walk (2016)
No Good time to go
Barney's Band  – THE CARIBOO EXPRESS – traditionally have toured this time of year raising funds for Foodbanks wherever you played.
Over 15 Years Barney and the ever-changing artists have raised over $1 Million Dollars
.
SHARI ULRICH  – BOWEN ISLAND
HOUSE UP ON THE HILL
A BIT OF FORGIVNESS
ALL OUR HEARTS
BILL HENDERSON  on Salt Spring Island
Up above my head
There must be some way
Dusty Old Guitar
MURRAY MCLAUCHLAN  – Toronto
A Thompson Day
Love can't tell time
Old Tin Star
We have all gathered here on Mulligan Stew to bring Joy to your home and awareness to and appreciation of – Alberta's Food Banks.
They were truly challenged in 2020.
Please consider donating to your local or provincial food banks
All of the details can be found at
https://ckua.com/read/holiday-resources/
Merry Christmas ALL – you are not alone. We are right here with you..
Thanks to Barney. Shari. Bill and Murray – with a Duke Chaser.