Spring Releases from Le Vieux Pin, Noble Ridge and celebrating World Malbec Day

THE SHOW
It's quite a line up today. Founders, owners, winemakers, viticulturalists and three of the best wine minds I know.
Leslie D'Andrea – co-founder/owner of Noble Ridge  Okanagan Falls.
Leslie brings the  next group of  Spring releases from a very busy winery.
FYI – Now open daily from 10-5 (May-October)
NV "The Fizzy One"  Frizzante Sparkling 60% Pinot Gris 40% Viognier – a 100% fun. Lush Pink Grapefruit and citrus  on the nose. The palate is clean, brisk and loaded with berry flavours. and here's the best part. $21.99. How long do you think 300 cases will last?
2020 Rose'
100% Cabernet Sauvignon Provence style. Pear and herbs take you to a lasting finish.There's no need to hurry through this rose'…linger a while. Salads, seafoods, soft cheese, chicken or the love of your life. $21.65  Only 120 cases.
2019 Meritage
84% Merlot  16% Cabernet Sauvignon 12 months in barrel. 75% French  25% American. 20%  New Oak. Berry and  dark ripe current on the nose. Herb and a solid minerality/graphite straight down the middle.Hints of heated barn wood and chocolate. yes I know, I'm getting carried away.Which is  what a good wine should do for you. And the bonus is – $22.00 and they made 1984 cases.
www.nobleridge.com <http://www.nobleridge.com>
#benoble
Severine Pinte – winemaker/viticulturalist/management team  Le Vieux Pin and La Stella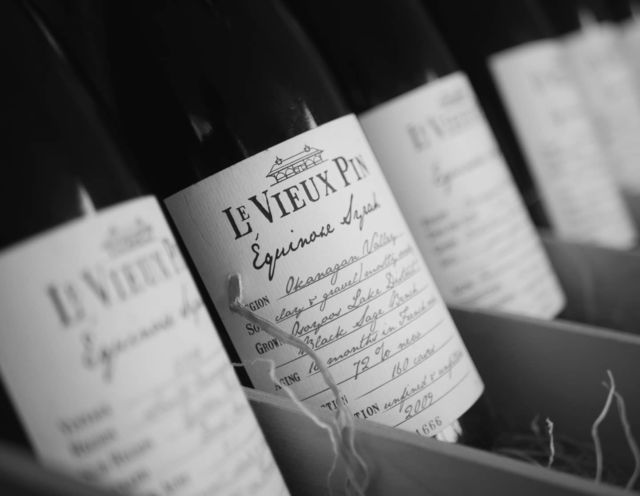 "Wine is complex, but also simple: it's the transformation of fruit to alcohol. A lot of people are intimidated because of how people talk about wine: experts use big words, but sometimes it goes back to -"do I like this smell, this colour, am I pleased with what I see in my glass, is the taste pleasing, do I want another glass?"
Wine can be just that. If I see a smile on people's faces when drinking my wine, then I'm happy. And remember, it's a training process. You can keep practicing"  Severine Pinte in The Femme Vine
We are so lucky to have Severine Pinte making wines in the Okanagan. With her skills and training she could be working anywhere in the wine world, even back home in France,  where she grew up. She leads the growing in the fields and the winemaking in the cellars for Le Vieux Pin and La Stella. The first leans French and the second fully and completely embraces the best of Italy.
Just a hunch but I think the reason why her wines are SO good is because she's a grower first. As a grower she knows what she wants in the bottle so she works with the vineyard to produce just such a wine.
Her favorite quote is from Jean Hugel: "100% of the quality of a true wine is already in the grapes, not in the cellars where you can only lose quality."
Severine has been growing and harvesting and winemaking in BC  since 2010 and she is truly one of the reasons why BC wines  are  so much better today.
Severine brings with her today her new Spring Releases from Le Vieux Pin and La Stella.
2020 Le Vieux Pin  Sauvignon Blanc –hints & elements of Marlborough, a little Napa influence and a dash of The Loire.
Think oysters, prawns, salads.  Strikingly fine  $30.99
2019 Le Vieux Pin  "Ava "  – classic Rhone white  50 % Viognier. Balanced with Marsanne and Roussanne. Can cellar for 5-8 years.
Full and rich. Notes of herbs and brioche. Ripe fruit and floral delight. Pairs with roast chicken. Game birds.$30.99
2019 Syrah "Cuvee Violette"  . This is a pure essence of Syrah. Pepper, dark fruit and oak.
Feminine, perfumed and elegant.  16 months in concrete. Some new oak.  $32.99
2017 Le Vieux Pin Equinoxe Syrah.  18 months in French Oak.  48% New. Everything you want in a Syrah. Spice. Blackberries. Balance from front to back. This wine was made by a lover of Syrah. $89.99
La Stella 2018 Fortissimo  Merlot. Cab. Cab Franc. Sangiovese. It has everything you could ask for in a beautiful dark blend – spice, plum, blackberries and a wonderful fruitiness & tannins but what really pulls it all together is the acidity in the Sangiovese. $31.99
La Stella 2017 Espressivo Old World meets New World. Paying tribute to the arrival in the 60's of Super Tuscans  This release is 52% Cab Franc,  16% Cab, 16% Merlot and 16% Sangiovesse. 17 months in barrel.  28% new oak.  $49.99
2017 Maestoso "solo" Merlot.  100% Merlot. Powerful and seriously structured.
Notes of cassis – plum and vanilla. Wildly  impressive. $89.99
Saturday April 17th  is World Malbec Day –  Malbec is the flagship wine of Argentina
Talking about and recommending Malbecs are:
DJ Kearney – Educator and judge (note: at Argentine Wine Awards)
Kurtis Kolt – Educator and wine judge.
Rhys Pender – Master of Wine, winery co-owner and wine teacher.
Stories we are working on:
Spring Releases
Cowichan Wine Festival
Fort Berens
Hillside
Moon Curser
The Hatch
Enrico