THE SHOW
George Heiss – Gray Monk Estate Winery (Co-founder. Winemaker/Lake Country)
George and Trudy. It was always George and Trudy Heiss.
He was a really good hairdresser. She was a model. They met,  fell in love, planned a family, and headed for the Okanagan to become winery owners and winemakers.
There were only 6 other wineries in BC then. They were the 7th.
Gray Monk became one of the true iconic vineyards in Canada.
Their flagship wines were Pinot Auxerrois, Kerner, Pinot Gris and Gew!
The very favourite blend was Latitude 50 – Bacchus and Riesling.
What I liked most about George and Trudy was their sense of humour and  their very affordable prices.
"We've paid for our land,  so we decided to thank the customers by keeping the prices as low as possible"
We all lost a true pioneer June 29 when George died. He was 81.
Our sincere thoughts and love go out to Trudy and  to his family.
I found this interview I did with George and Trudy from 2012. They were celebrating their 30-40-50 tour.
30 years since they opened,  40 years since they first planted vines and 50 years since they met & married.
The legend – George Heiss!!
Taylor Whelan – Winemaker – Cedar Creek (Lakeshore. East Kelowna)
Executive Chef Neil Taylor – Home Block – Cedar Creek
Under normal circumstances, presenting new releases from Cedar Creek might seem routine.
However, when you combine the quick mind of Chef Neil Taylor  (Home Block) and the passion of winemaker Taylor Whelan, those wines are anything but routine.
We're tasting…
2019 Riesling (brilliant minerality, lemon/lime, petrol, apple)
2020  Sauvignon Blanc (pear, granny smith, citrus, lemon, cats pee)
2020 Pinot Noir Rose (strawberry, lime, tangerine, plum)
2019  Pinot Noir (cherry, strawberry, oak, cedar, minerality, and smoke)
And Chef is pairing in order…
Beets and Borani. Walnuts, goats cheese, dill, and fennel.
Burrata 6 Shishido's, Prosciutto, pesto focaccia.
Spring salmon, clams and bacon,  charcuterie
Thinly slice cold roast pork loin, tuna mayonnaise, capers, and rocket (Arugula)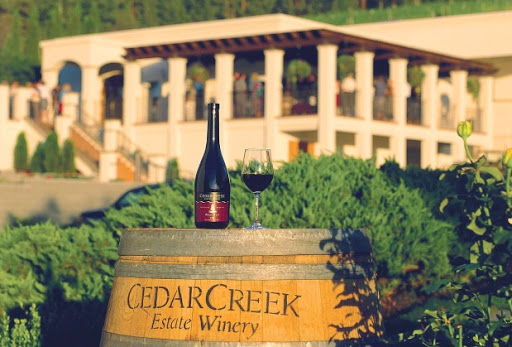 Jim Cuddy – Blue Rodeo. Jim Cuddy Band   –   Cuddy Wine by Tawse, Niagara
He is one of the very biggest stars in Canada's music world.
I'm not talking about the World World – The Drakes, Biebers,  Weekend, Shawn Mendes, etc
I'm talking about CANADA'S music. Our music. For our country. If others get it – bonus.
Think The Hip, Feist, Colin James. Blackie and the Rodeo Kings. Alan Doyle etc.
Blue Rodeo is such a band. They can tour coast to coast, head south into the USA, and be welcomed.
Jim Cuddy is the co-founder and co-writer/co-singer of Blue Rodeo.
And then there's his own solo career featuring The Jim Cuddy Band.
One of his other talents is – wine. The man knows his wines. The bus heading home from a tour across Canada is much heavier than when it left. It's loaded with Canadian and World wines.
When not on the road, Jim spends time at the highly regarded vineyards at  Tawse Winery in Niagara.
The Cuddy by Tawse,  created by winemaker Paul Pender are
2016 Chardonnay
2018  Cab Merlot (Cab Franc, Cab Sauvignon, Merlot)
2016 Spark Traditional  Method Sparkling Riesling
Despite years of heckling, I've never TASTED his wines. But Tawse doesn't fool around with interlopers.
So, when we do get together to talk music..right after the music chat is finished, we wait 2-3 seconds. Then the wine conversation begins.
Here's the latest chat.
FYI
Blue Rodeo play The Calgary Stampede – Saturday, July 17
And
The Jim Cuddy Band returns to Calgary's Prince's Island Park to headline the Folk Festival Summer Serenade on July 23

STORIES WE'RE WORKING ON
The  return to Unsworth  (Cowichan)
The Okanagan  Re-Connect  (Okanagan Valley)
Summer Spirits with Davin de Kergommeaux
Jeff Downie – The Old Firehall mixologist