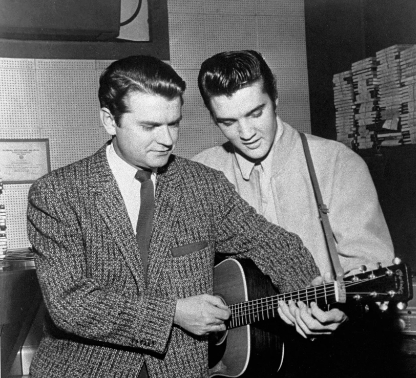 July 30 2003 Sam Philips died in Memphis.
He lead an amazing life..
From a family in the deep south that grew cotton.  Sam would work in the fields with African American pickers. They brought their songs with them and Sam grew to love the music.
He worked his way through radio and played a mix of black and white music that he loved.
When he started Sun Records in Memphis..it made perfect sense that he would record Jr Parker, Howling Wolf, and Charlie Rich side-by-side.
Then he went looking for a white singer who shared his love of black music and found him in ELVIS.
When I had the opportunity to visit Sun Records Studio…I just sat there and tried to imagine the history bouncing  off the walls
So years later, I find myself at the opening of the Rock Hall of Fame in Cleveland in 1995. Sam Phillips is being inducted and comes into the press room to speak with journalists and reporters as a group.
I waited until the very last question and asked him this question…
"Sam. They have recreated your studio here in the Hall. But how do they recreate the magic, the creative juice that connected in your original rooms? The incredible spark that happened between you and Elvis. How does that get captured here?"
His answer just blew me away… The other voice you hear is Mary Wilson from The Supremes.
The other guest visit is with Colin James and Jeff Healey…many years ago at MuchMusic in Toronto.
Just jamming in the studio. A Jimmy Reed song.  I told the guys I'd give them 5 bucks each if they worked my name into the lyrics.
A Great jam, both guys solo on their acoustic guitars – Five bucks later it's followed by a giggle.
 This was pure magic..still is!
Here's the long weekend music list – goes well with burgers.
OH…the Podcast is Cheech  and Chong.  Years ago, back in Vancouver where it all started for them.
PLAYLIST:
| | | |
| --- | --- | --- |
| Mulligan Stew | Terry David Mulligan | CKUA Radio |
| Let me love you, baby (live) | Buddy Guy | Rock Hall of Fame 2004 |
| Don't Mind | Patti Griffin with Robert Plant | Tape |
| Sunny afternoon | The Kinks | Summer |
| I got a feelin (live) | Norah Jones | Live. Empire State Building |
| Love me like a man | Diana Krall | The girl in the other room |
| TDMulligan – The Stew | @tdmulligan | Next – Mark Knopfler and Emmy Lou Harris |
| right now (live) | Mark Knopfler and EmmyLou Harris | Real Live Roadrunning |
| coal mine | iskwe – Tom Wilson | Mother Love |
| Coyotes Banff | Next Coming UP -Sting and Bruce Springsteen | Mulligan Stew |
| Every breathe you take (live) | Sting and Bruce Springsteen | Released. Human Rights Concerts |
| My guy | Mary Wells | Hitsville |
| Pride and Joy | Marvin Gaye | Hitsville |
| TDMulligan | The Stew | @tdmulligan |
| Roadrunner | Jr Walker and the All Stars | Shotgun |
| Roll with it | Steve Winwood | Roll with it |
| Roadrunner | Jr Walker | Shotgun |
| Mulligan Stew | NEXT – The man who invented Rock | Sam Phillips |
| Sam Phillips Interview | With Mary Wilson from The Supremes- | At Rock Hall of Fame 1995 |
| Rocket 88 | Ike Turner and Jackie Brenston. Delta Cats | Golden Hits |
| In dreams | Roy Orbison | Very best of |
| Big River | Johnny Cash | Greatest Hits |
| Paying the cost to be the boss | BB King | His Best |
| Great balls of Fire | Jerry Lee Lewis | Greatest HIts |
| Hound Dog | Elvis Presley | The Searcher |
| This is Year 26 of Mulligan Stew | Next – John Batiste | @tdmulligan |
| Sweet | Jon Batiste.Pentatonix. Diane Warren | Single |
| Sing me a song | William Prince – Serena Ryder | Single |
| Rhinestone Cowboy | The Jim Cuddy Band | Countrywide Soul |
| Sing | The Small Glories | Assiniboine & Red |
| Mulligan Stew | @tdmulligan | Next Colin James and Jeff Healey |
| Baby what you want me to do | Colin James and Jeff Healey | Jam at MuchMusic with tdm |
| Wouldnt it be nice | The Beach Boys | Greatest Hits |
| Windows are rolled down | Amos Lee | Mission Bell |
| This has been The Stew | with TDMulligan | Take in a Festival |
| This has been The Stew | with TDMulligan | Go to a Festival |
| Fire Escape | Dan Mangan | Single |
| Running up That Hill (A deal with God) | Kate Bush | Hounds of Love |