Our Guest is JAK Meyer Co-owner of Meyer Family Vineyard.
(just in time for Holiday Cheer weekend in OKFalls/Skaha Lake)
"We've been nearly sold out of many of our current vintage Chardonnays for quite some time now, so with much anticipation, we're pleased to release four single-vineyard Chards from the 2021 vintage.
While 2021 was a low-yielding vintage due to extreme summer temps, our winemaker Chris Carson believes that it could be one of the most flavourful in recent memory. We hope that you find something you love!"  Jak Meyer. MFV
When you contact Meyer Family Vineyards, what catches your eye is a list. Not just any list but a National Wine Awards list of the best Small Wineries of Canada. It goes like this –
Meyer Family Vineyards
#2 Small Winery in Canada 2021 at the National Wine Awards
#10 Small Winery in Canada 2019 at the National Wine Awards
#4 Small Winery in Canada 2018 at the National Wine Awards
#2 Small Winery in Canada 2017 at the National Wine Awards
#3 Small Winery in Canada 2016 at the National Wine Awards
That's called consistency.  That's also what they achieve with their chardonnays.  Congratulations to Winemaker Chris Carson and his entire team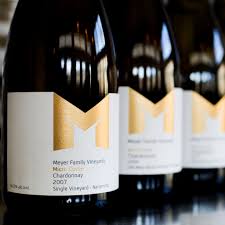 Each and every year Meyer Family present award-winning Chardonnays that set standards for all of Canada.
JAK Meyer, the co-founder, and co-owner of Meyer Family Vineyards (with his wife Janice Stevens-Meyer) joins us to walk and talk us through their chardonnay.
Here's the second list that caught my eye – Their current Chardonnay Releases.
2021 Okanagan Valley Chardonnay – 400 cases. $23 A blend of various locations and a great place to start your Meyer Chardonnay journey.
2021  Stevens Block Chardonnay – 230 cases. $28 Clones 4/5 from the fantastic Old Main Road Vineyard in Naramata  – Chablis style!  Clean!
2021 Anarchist Chardonnay Dekleva Clone – 175 cases. $35 Grown at 1700 ft. Unknown Original clone. A suitcase wine. Planted 1985. Some new oak.
2021 McLean Creek Chardonnay – 500 cases. $35 Outside their Tasting Room. Planted 1994. 11 months in barrel/22% new.
2021 Old Main Road  Chardonnay – 533 cases. $35 (formerly Tribute Series) Vines planted 26 years ago on Naramata Bench. 22% new Oak. Cellar 7-10 years.
2020 Micro Cuvee Chardonnay – 200 cases. $70 Best fruit. Best barrels. From McLean Creek Vineyards. 100% French Oak/40 New  Unfined. Coarse Filter. Cellar 8-10 yrs.
These delightful wines range from fabulous entry-level, Chablis clean, to lightly oaked and fully oaked classic Chardonnays.  Winners all!
HEADS UP…
This weekend The Wineries of OK Falls and Skaha Lake are celebrating Holiday Cheer!!
All 15 wineries will be welcoming visitors. Here's what to expect at Meyer Family Vineyards and Mayhem
Meyer Family Vineyards
Our event will be ticketed-only, no drop-ins. Four food and wine pairing stations around the property. Tickets will be $30 and available on our website!
Mayhem Wines
Drop in, no appointment in the new tasting room. $10 tasting fee donated to SOWINS. Or bring an unwrapped toy for a child. The tasting includes ice cream and Fortified Gewurztraminer.
See the complete Holiday Cheer winery list at www.theheartofwinecountry.ca
STORIES WE'RE WORKING ON:
Hester Creek
Culmina @Meet the Makers
Laughing Stock @Meet the Makers
Lake Sonoma and Plume
Holiday Wines for gifting and pouring