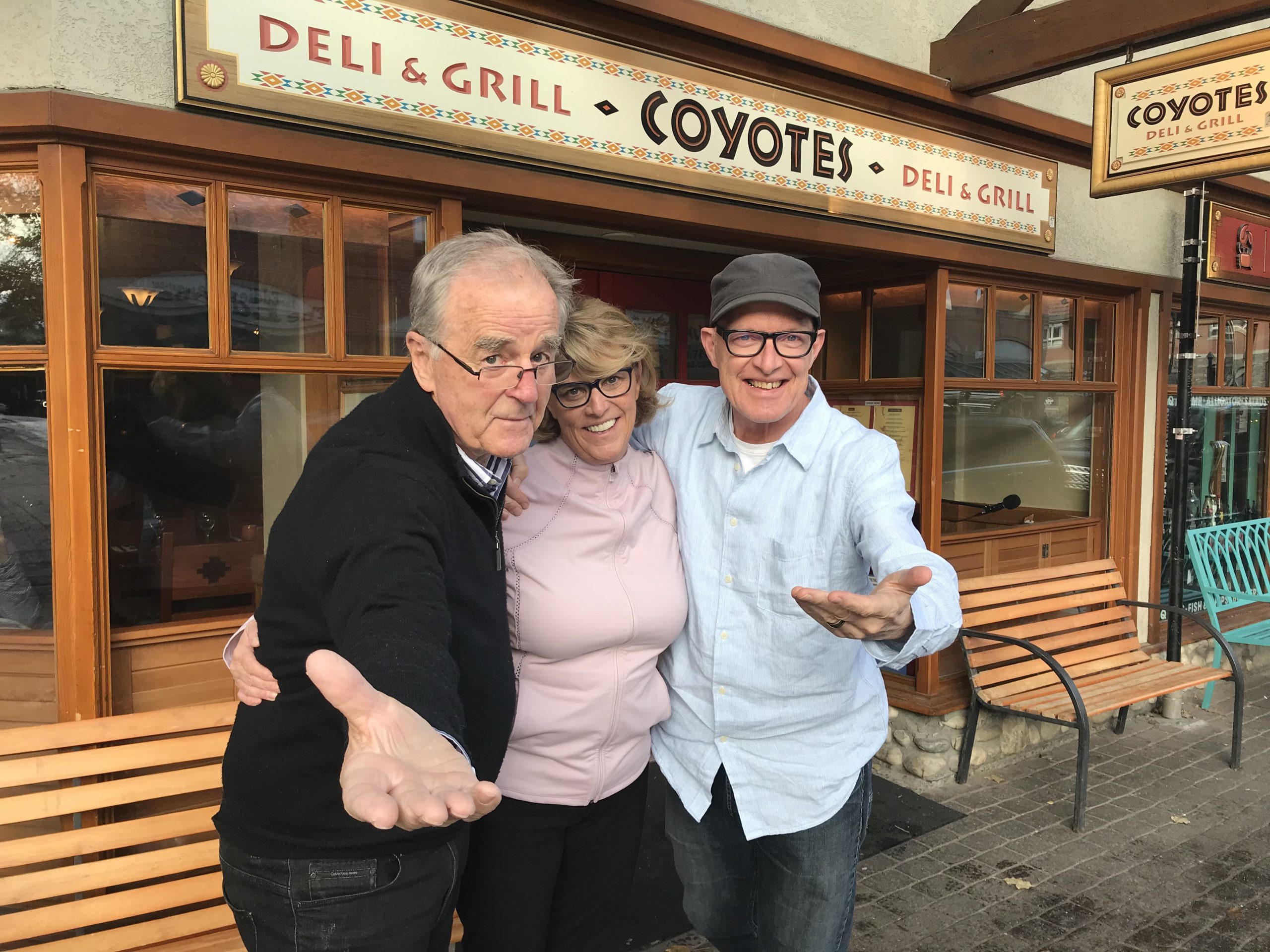 We play the music for our dear friend David Ward!!
(and remember David Crosby)
The photo  above is of David, Allison Brock and myself hosting Wide Cut Stew at Coyotes in Banff.
Below is of David and I creating a live Mulligan Stew from several Fundraisers ago. It's in the Calgary Studio. As of Saturday it will be called the David Ward Production Studio. Our thoughts are with his family.
We start this Jan 21 edition of The Stew with Aretha Franklin Live in Paris…a song and a moment that sparks the listener with joy, happiness, and the weight of her loss.
She's actually singing about herself and her marriage "liar and a cheat..never know why I let you do these things to me"
AND WE'RE OFF –
New Springsteen
Keb Mo
Leon Russell
Dr John and Lukas Nelson
Tower of Power
Colin James
The National with Bob Weir (live)
Paul Simon (live)
Leonard Cohen (live)
New music from:
Artic Monkeys
Dan Mangan
King of Foxes
Julianna Riolino
Ariel Posen
Plus…
Watchhouse
Brandi Carlisle
John Hammond and Tom Waits
Blue Rodeo
Jimi Hendrix – He recorded All along the Watchtower on Jan 21, 1972
and
David Crosby and Graham Nash  –  a demo of Deja Vu
PLAYLIST:
| | | |
| --- | --- | --- |
| Mulligan Stew – Year 27 | The Stew – in Honour of David Ward | TDMulligan |
| Never loved a man. The way I love you (live) | Aretha Franklin | Aretha in Paris |
| Don't play that song (live) | Bruce Springsteen | Only the strong survive |
| Lone Ranger | Julianna Riolino | All Blue |
| Road of Love | Keb Mo | Muscle Shoals. Small town. Big sound |
| Coyotes Banff | Just won best breakfast menu – Banff | – |
| A song for you | Leon Russell | Leon Russell |
| I walk on guilded splinters | Dr John – Lukas Nelson (OTReal) | Things happen that way |
| Little Words | Watch House | Such a Jubilee |
| CKUA | The Stew with TDM | @tdmulligan |
| Call me the breeze (live) | Tom Petty and The Heartbreakers | Live at the Fillmore |
| Helpless (live) | The Band with Neil Young | The Last Waltz |
| The Stew | TDM | don't forget 5050 |
| 219 | John Hammond (Tom Waits) | Wicked Grin |
| The Stew | Year 27 | A large Welcome to you |
| The Joke | Brandi Carlisle | By the way, I forgive you |
| DeJa Vu (Demo) | David Crosby and Graham Nash | DeJa Vu  (50th Anniversary) |
| This is Mulligan Stew  | Remembering David Ward | |
| Knock yourself out | Tower of Power | East Bay Grease |
| Can't you see what you're doing to me | Colin James | Open Road |
| I know you rider (live) | The National with Bob Weir | Day of the Dead |
| Deane House | River Cafe | Thank you |
| I think about you | Blue Rodeo | Many a Mile |
| Seven Years | King of Foxes | Twilight of the Empire |
| in your corner | Dan Mangan | Being Somewhere |
| Perfect Sense | Artic Monkeys | The Car |
| The Stew | Coming UP Paul Simon. Leonard Cohen | Drifters |
| Thunder Island | Jay Ferguson | Thunder Island |
| The Boxer (live) | Paul Simon – Jesse Dixon Singers and Urubamba | Live Rhymin' |
| Mulligan Stew | please sent requests to – | [email protected] |
| save the last dance | the Drifters | best of |
| save the last dance (live) | Leonard Cohen | Live in Dublin |
| The Stew | TDM | – |
| All along the Watchtower | Jimi Hendrix | Electric Ladyland |
| Boogie Bot | Ariel Posen | Mile End 2 |
| | | |
| | | |
| | | |
| | | |
| | | |
| | | |
| | | |
| | | |
| | | |
| | | |
| | | |
| | | |
| | | |
| | | |
| | | |
| | | |
| | | |
| | | |
| | | |
| | | |
| | | |
| | | |
| | | |
| | | |
| | | |
| | | |
| | | |
| | | |
| | | |
| | | |
| | | |
| | | |
| | | |
| | | |
| | | |
| | | |
| | | |
| | | |
| | | |
| | | |
| | | |
| | | |
| | | |
| | | |
| | | |
| | | |
| | | |
| | | |
| | | |
| | | |
| | | |
| | | |
| | | |
| | | |
| | | |
| | | |
| | | |
| | | |
| | | |
| | | |
| | | |
| | | |
| | | |
| | | |
| | | |
| | | |
| | | |
| | | |
| | | |
| | | |
| | | |
| | | |
| | | |
| | | |
| | | |
| | | |
| | | |
| | | |