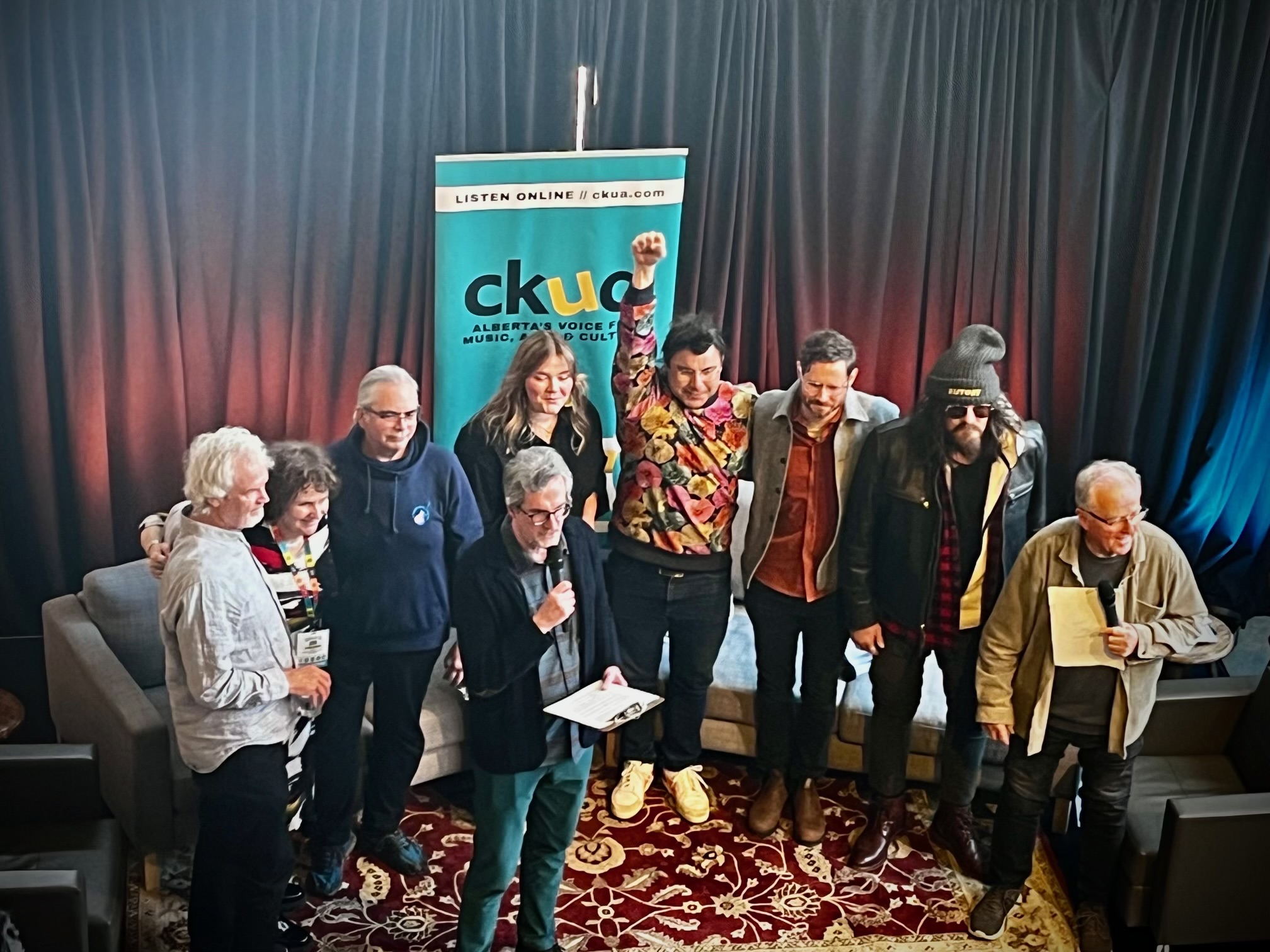 Juno Couch:  a luxurious seating area where artists may gather during Juno Weekend and exchange opinions, questions and minor insults. All for the entertainment of music fans everywhere. Music can also be played from the stage conveniently located right next to the Couches.
Just for the record, the Juno Couch only happens when the awards are hosted in Alberta. It's been co-hosted by Jim Cuddy of Blue Rodeo – except for this year.
Year one was in the bar lobby of the Hotel MacDonald, Year two was in a restaurant at the base of the Calgary Tower and Year Three was on the streets of Calgary.
Just over a week ago, Edmonton hosted the Junos Awards. Right across the street from the Juno home base was CKUA Radio.
A perfect home for the Juno Couch because we already had two couches and a performance area.
Jim Cuddy was playing Juno Cup hockey to raise funds for Music Counts—Canada's music education charity.
Jim made a guest appearance from the rink via The Net.
My co-hosts this year were Tom Wilson (Blackie and the Rodeo Kings) and Dan Mangan.
Guests include
Angelique Francis
Digging Roots
Shawn Hall (The Harp and Axe)
Jon Dore
Shakura S'Aida
The Weather Station
Marc Jordan and Amy Sky
CKUA Hosts
Holger Petersen
Cam Hayden
Kate Stevens
Marek Tyler
Grant Stovel
Kerry Clarke
This podcast is an edited combination of guest comments over the two-hour show. Best exchanges on the day!
Please enjoy!
And thank you all.
Guests, crew,  staff, volunteers, Vintage West, Rigoletto.