hello

Listen HERE:  Ziggy Marley Interview with TDM
For Ziggy Marley, his latest vehicle of expression the album Fly Rasta, represented a galactic sonic journey .
The trip began in early 2013 with a handwritten note by the six-time Grammy Award winner (with his most recent being the 2014 Best Reggae Album Grammy for Ziggy Marley In Concert).  He sat in his home recording studio, took out a scrap of paper, and began to think about what would become his fifth solo studio album.

The concept was simple: make a record that was true to himself, and expanded the territories of the traditional reggae sound by exploring new musical spaces.   He had brought strands of other genres into his previous albums, but now he was looking further into the musical universe, like the deep-space eye of the Hubble telescope.
Ziggy began work in Spring 2013 and enlisted producer Dave Cooley to join him on the adventure.  Recording began shortly thereafter with the help of friends old and new, including The Melody Makers (sisters Cedella Marley and Sharon Marley, and singer Rica Newell); drummers Stephen Ferrone (Tom Petty), Brian MacLeod (Sheryl Crow), Rock Deadrick (Ben Harper) and Motown's legendary James Gadson; guitarists Lyle Workman (Sara Bareilles), Takeshi Akimoto (Taj Mahal) and Ian "Beezy" Coleman (Burning Spear); bassists Dave Wilder (Norah Jones), Guy Erez (Karmina), Abraham Laboriel (Paul Simon) and Pablo Stennett (Willie Nelson); and keyboardists Zac Rae (Lana Del Ray), David Palmer (Goo Goo Dolls), George Hughes (Sarah Vaughan), Mike Hyde (Burning Spear) and Brian LeBarton (Beck).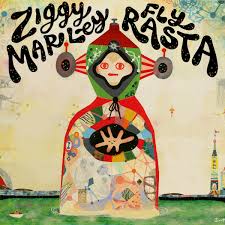 Fly Rasta, scheduled for release April 14,  fulfills Ziggy's mission by marrying his own distinctive reggae sound with elements of psychedelica, rock, funk, soul and pop, exploring further musical zones with the addition of sitar, tabla and taiko drums.  "I'm looking to push the envelope, to challenge myself," Ziggy explains.  " I have always wanted to travel far beyond the realms of expectations.