hello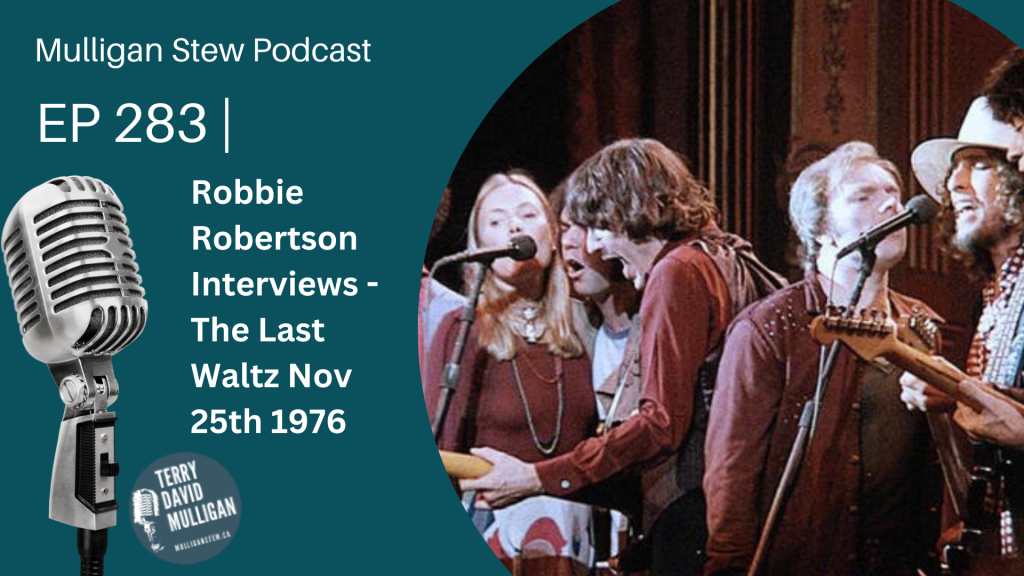 Nov 25 1976.  The Band played their last gig at San Francisco's legendary Winterland Ballroom.
I was honoured to be at The Last Waltz as a guest of Robbie Robertson.
Robbie knew there would be special moments on a night of special moments. Some of them would be uniquely Canadian.
The biggest focus of the night was to honour their music, the friends who mentored and supported them along the way and correct a bad memory.
Their first ever  concert was at the same  Winterland Ballroom April 17-18-19 1969.  Even though there were rave reviews from some, Robbie and The Band were not happy with their performances.
That dark cloud stayed with them for a long time.
That is until 7 years later they decided to end their brotherhood with a final, "lets invite everyone" concert back at Winterland.
The Band decided to film the entire event and the director chosen  was Martin Scorsese.
These four Canadians and one American had been making music together for 16 years. From The Hawk to Dylan. It was time to say goodbye.
Last Waltz is considered one of the very best music films ever made. Scorsese and Robbie would go on to become best friends.
Of course, we lost Robbie Robertson August 9 of this year.
To honour Robbie, The Band and this music history I've gathered several Robbie interviews from over the years.
A prime storyteller, he covers The Irishman film, 50th anniversary of their 1969 album The Band.
The Band documentary Once were brothers, their influence on artists that followed, Testimony his book, their influence on Dylan,  how  Robbie wrote The Weight, Cripple Creek and Dixie Down.
And finally , his thoughts on the moment at The Last Waltz
When The Canadians took over and sang together.
The Band, Joni Mitchell and Neil Young.
Enjoy Robbie and his stories & music.