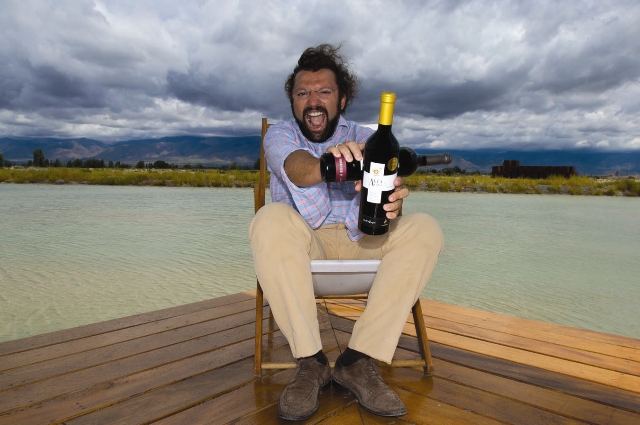 This special starts back in Vancouver with a quick chat with Sebastian LeGoff, Service and Wine Director at Cactus Club Cafes. Until April 30 – a dollar from every desert goes to Make-A-Wish. We just wanted to remind you as the days are flying by. And then…it's off to Argentina and an All-Star line-up. Steven Spurrier, DJ Kearney, Paul Hobbs and  Bruce Schoenfeld 
Podcast: Play in new window | Download

Spectacular Argentina
THE SHOW
When we last left our media bus it was leaving Patagonia and head for the airport and a flight to Mendoza. The Crown Jewel of Argentina. The first voice you hear will be that of our Host.
Magdalena Pesce
from
Wines of Argentina. www.winesofargentina.org
She reminds us of Canada's place in the World of Wine. Almost 10% of all Argentine wine sales happen here. We LIKE this wine, this place and these people.
Then it's off to three character people and three wonderful wineries
Jose Manuel Ortega – O Fournier. http://www.ofournier.com/
Candid, forthright, direct, focused, unreserved: all these describe both him and his wines. All based in one of the most striking wineries anywhere.
Roberto Timms – Deumayen Wines  http://www.bodegasdeumayen.com.ar/
Where to begin. Three high profile businessmen including Roberto  created this new winery. They then created a label called
Trez,
named after the partners initials. Trez makes  a reserve Malbec that picked up  92 Points from Rob. Parkers website. Deumayen is pronounced Dayo-Mahgen. They also release a Petit Trez and distribute a Tokaj from Hungary. [divider]
Pablo Cuneo – Ruca Malen
Ruca Malén's
dream began in 1998, when
Jean Pierre Thibaud
left the chairmanship of Bodegas Chandon in Argentina after 10 years of service. He met Jacques Louis de Montalembert who had also forged an outstanding career in the winemaking industry in his hometown, Burgundy and both men soon discovered that they shared the same dream: to start their own winery in Mendoza. The result was
Ruca
Malén
; a winemaker's paradise at the foot of the Andes range.
Bodega Ruca Malén
can be defined by three key words: style, elegance and distinction. The Director pf the winery and lead enologist is our guest..
Pablo Cuneo www.bodegarucamalen.com
  Nadia Fournier – Montreal Journalist Guide du Vin.  French version of Wine Align
There were four wine journalists on this trip. Nadia arrived from Montreal and brought with her a bright, fresh approach to wine writing. This interview happened in the back on a taxi. Thus the various noises and rumbles. Salute!!
https://twitter.com/NadiaFournier
[divider]
Three of the judges.
 DJ Kearney –
Judge and Wine Expert. Vancouver.   Wine Educator, straight shooter, friend.
Deej gives us a overview of Canada's relationship with Argentina's wines.
https://www.internationalsommelier.com/services/dj_kearney
Steven Spurrier – Consultant Editor Decanter Magazine
Famous the World over for being the man who created the Paris Tasting of 1976 between the wines of France and the wines of California. When the Yanks walked away with the top prizes it signaled to the rest of the wine world that indeed you can make great wines in places OTHER than France. The film
Bottleshock
is loosely based – very loosely – on this moment in time. Mr Spurrier was judging on behalf of Decanter magazine. 
www.decanter.com
Bruce Schoenfeld – Wine and Spirits Editor  Travel and Leisure Magazine.
Over 1 Million readers follow Bruce's writing.
There's a lot of opinion and information in this interview. A wonderful overview of Argentina and its wines.
http://www.travelandleisure.com/
      [divider] And finally…
Paul Hobbs – Vina Cobos /  Paul Hobbs Wines.
http://www.paulhobbsimports.com/
Paul Hobbs was already well on his way to being one of California's top wines when he accepted an invitation to visit Chile and Argentina. In Paul's words
" Over the twenty years that I have been working in South America, I have had the thrill of helping spark an Argentine winemaking revolution that has brought worldwide attention and prestige to the region. As a consultant, I have seen this trailblazing spirit take root in other South American countries, resulting in improved quality and the emergence of a variety of new and intriguing winemaking ventures."
And that's where we leave this Argentine Special part 2.  I'm thinking there may be even more interviews hidden within all we did while there.
When I find those stories..I'll pass them along.
My thanks to Wines of Argentina, Dana Lee and Monica Ralphs in Canada for their support.
http://www.winesofargentina.org/noticias/ver/2014/02/22/argentina-wine-awards-2014-el-jurado-selecciono-los-mejores-vinos-argentinos/
Podcast: Play in new window | Download
STORIES WE'RE WORKING ON:
The wineries of Okanagan Falls pour through Vancouver. Bill Jones and the Deerholme Foraging Book Wines for Spring from Daenna van Mulligen – The Wine Diva