Time for an Okanagan Road Trip
Wild Goose. Liquidity. Culmina. Hester Creek. Road 13. Fairview Cellars. Local Lounge and Grill. Brodo
And 8 fascinating  minutes with The Legend Richard Cleave.    
Podcast: Play in new window | Download
[divider]
THE SHOW
We start this journey through the South Okanagan as we should..
with Ellen Walker Mathews from Thompson Okanagan Tourism Association.
TOTA had arranged a food and wine tour of the Okanagan..that allowed for little down time.  OK by me.
This show is  the first of two specials. Next Week..Part Two.
 Ellen Walker Mathews – TOTA.  Our Host.
  [divider] Roland Kruger – Wild Goose
 The new tasting room at Wild Goose is now open and in full operation!
The wine shop is loaded with new vintage wines and an assortment http://secured.onlinegambling2014.com of library wines available for purchase.  Special wine shop "only" wines are also available, including the new Muscat release, Morio and Friends!  One of the true "originals" in BC wine..we salute Wild Goose.
[divider]
Chef Rob Walker – The Bistro at Liquidity   www.liquiditywines.com
It was opening day at Liquidity Bistro..and still Chef Rob Walker took time to talk to us.
I was expecting a small 10 table bistro. What we all got was a sensational restaurant..with windows on three sides..and one of the best views in all of the Okanagan.
The culinary side of the Okanagan Experience is finally starting to show signs of catching up to the wines. Liquidity is a prime example.
[divider]
Culmina
The  life history of Don Triggs is also one of the main stories  of the Canadian Wine Industry.
After leaving Labatts, he partnered with Alan Jackson..to form Jackson-Triggs..one of the biggest success stories in all of Canadian wine.
Don now leads Culmina as Co-Proprietor & Principal.. He's supported and strengthened by his wife Elaine and the former winemaker at Osoyoos Larose ..Pascal Madevon and consultant Alain Sutre.  That's one great team.
Don, Elaine and Pascal join me on Tasting Room Radio.
[divider]
Chef Roger Gillespie – Hester Creek
Roger Gillespie was born and raised in Winnipeg, but has worked throughout Canada in the restaurant business over the past 20 years including stints in Jasper Park, Alberta and Tofino and Whistler in BC. He eventually moved to the valley as food and beverage manager at the Harvest Golf Club in Kelowna. In 2004, he moved to Summerland and worked for Sumac Ridge Estate Winery and See Ya Later Ranch until he opened his own restaurant in Summerland, the Victoria Road Deli & Bistro, in June 2008.
If you're looking for info on what wine pairs with what food..Roger's your guy!!
[divider]
Road 13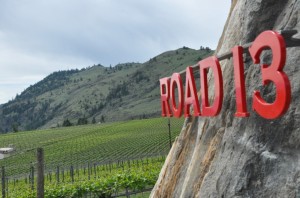 For 6 years we've been interviewing Mick and Pam Luckhurst – The owners of Road 13.
Now comes the NEXT generation – Joe Luckhurst
The younger of the two Luckhurst sons, Joe, has been involved in Road 13 from Vancouver for several years. In 2012 Joe left Vancouver to throw himself into the everyday operations of the family business and early in 2014 he took the helm as General Manager. With a work ethic that is oddly familiar to the rest of the team at Road 13, he seems to have fully embraced Mick's adage, "owners don't need days off."
Joe is an actor!
Perfect for  the wine business.
[divider]
Chef Paul Cicconi  –  Brodo Kitchen  Penticton
"Chef Paul" is a graduate of the Vancouver Community College Culinary Arts Program and holds an advanced certificate from the Wine and Spirit Education Trust. Before diving in with BRODO, he spent time in the kitchens of The Beach House at Dundarave Pier in West Vancouver, The Four Seasons Hotel Vancouver, the Regent at the Four Seasons Hotel in Sydney, Australia, and most recently was the Executive Chef  at Local Lounge * Grille in Summerland, BC.
What a great chef..
Enters Stone Soup Kitchen competition in Kelowna. Wins it.
Enters Chowder competition in Vancouver. Wins it.
The guy has a gift for tasty simple food.
Wonderful person.
Opened in May 2013, BRODO (Italian for "broth") features locally-sourced ingredients in a variety of soups, sandwiches and salads, and the menu changes seasonally to reflect what's fresh from the harvest. Unique to Penticton, the "flight of soups" has been a hit since opening — three soups to tempt taste buds, paired with a salad or sandwich.
BRODO's service is fresh and fast, true to Chef Paul Cecconi's motto: simply fresh food.    [divider]  Big Bad Bill Eggert – Fairview Cellars
Fairview Cellars is the culmination of a lifelong quest of Bill Eggert's to own and operate his own winery.
The 10 acre property located adjacent to the first green of the Fairview Mountain Golf Course was purchased by Bill in 1989.  The vineyard was started in 1993. The high opinionated Mr Eggert also happens to be one of the very best winemakers in Canada.
Half the property was planted to Cabernet Sauvignon.  Cabernet Franc and Merlot were planted in equal parts to fill out the property.  One row of Syrah and one row of Petit Verdot were added later, and Sauvignon Blanc was planted on a lower terraced bench close to the first green in 2007.
If you happen to PLAY the first hole and go out of bounds..DO NOT attempt to retrieve your ball off Bill's property.  I beg you.
[divider]
Local Lounge and Grill – Summerland
Love this segment. All friends.
Executive Chef Lee Humphries
Christa-Lee McWatters Bond
Cameron  A R Bond  (the AR stands for Argggg)
Local has it all. A first class chef in Lee Humphries.
Staff that respects the customer.
Two team leaders in Christa-Lee and Cam..AND a location right on the shoreline of Okanagan Lake..with a spectacular view of the Naramata Bench.
Lets go Local.
[divider]
Richard Cleave – The One and Only!   
In addition to Sandhill Estate Vineyard, Richard Cleave manages his own personal vineyard. Dedicated to producing the grapes needed to make single vineyard wines of the highest quality, Richard painstakingly reduces the yields to intensify the flavour, character and sugar content of the fruit. Not surprisingly, Dick's Phantom Creek Vineyard was recently named one of the "Top 10 Single Vineyards Around the World" by Wine Access Magazine.
His other wine partner is Harry McWatters.
No contracts here. Just handshakes.
With over 30 years of grape growing experience, Richard Cleave is one of the most respected growers in the Okanagan.
A true pioneer in the BC wine industry, Richard's goal is to grow the fruit used to make the most acclaimed wine in Canada.
We talk about Black Sage Road, Cellared in Canada BS and truth in labeling. We also talk to Howard Soon from Sandhill.
Podcast: Play in new window | Download
[divider]