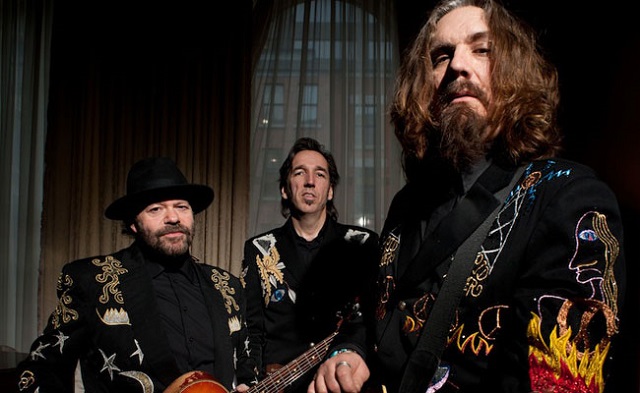 Tom Wilson, Colin Linden and Stephen Fearing each have their own distinctive and successful solo careers.


But when they gather together to make music and tour, they become Blackie and the Rodeo Kings, one of Canada's best voices in the World of music.
And to have them sit for a group interview backstage at The Commodore Ballroom was just sublime.
They are my  featured guests on Saturdays Stew – plus another 90 minutes of killer tracks.


Blackie & the Rodeo Kings originally formed in 1996 when Colin Linden, Stephen Fearing and LEe HARVeY OsMOND came together to record what was suppose to be a one- off tribute album to the great Canadian songwriter Willie P. Bennett…the rest is history!
As promised Blackie and The Rodeo Kings deliver the companion to their 2011 collaboration album KINGS and QUEENS. While KINGS and QUEENS featured guest appearances from some of the band's favourite female singers, this album, titled KINGS and KINGS features some of the band's best "guy" friends from the world of roots, blues and country. Each one of them an accomplished KING in their realm of creative endeavours and in many cases absolute KING legends in the entertainment industry.

TONIGHT – Two legends in one interview.
Blackie and the Rodeo Kings AND The legendary Commodore Ballroom in Vancouver.
Hanging out Backstage.  Oh the stories we could tell.

PLAYLIST:
| | | |
| --- | --- | --- |
| Welcome to The Stew | with Terry David Mulligan | Playlist www.mulliganstew.ca |
| Train to Nowhere | Eric Clapton and Mark Knopfler | Eric Clspton and Friends. Trib to JJ Cale |
| I got loaded (live) | The Wood Brothers | Live at The Barn |
| If she could sing | Art bergmann | Remember her name |
| www.canadahouse.com | Mulligan Stew with tdm | |
| I like it like that | Pete Rodriguez | Chef Soundtrack |
| Senor Blues | Taj Mahal | The Essential nTaj Mahal |
| Coming UP – Father John Misty | www.MullganStew.ca | |
| White boy lost in the Blues | Lyle Lovett | Release Me |
| Anytime of Night | Jesse Roper | Red Bird |
| Bored in the USA (live) | Father John Misty | Protest Now |
| www.coyotesbanff.com | Coming UP – Blackie and the Rodeo Kings Interview | |
| Exodus (remastered) | Bob Marley and the Wailers | Legend (bonus) |
| Honey Jar (live) | The Wood Brothers | Live at the Barn |
| Mulligan Stew | NEXT – Blackie and the Rodeo Kings @The Commodore | |
| Blackie and the Rodeo Kings Interview | Backstage at The Commodore | |
| Live by the song | Blackie and the Rodeo Kings | Kings and Kings |
| Blackie and the Rodeo Kings Interview | Backstage at The Commodore | |
| Beautiful Scars | Blackie and the Rodeo Kings | Kings and Kings |
| Blackie and the Rodeo Kings Interview | Backstage at The Commodore | |
| Old Slewfoot | Blackie and the Rodeo Kings | Let's Frolic |
| Mulligan Stew Year 21 | TD Mulligan | |
| To make you feel my love (live) | Adele | Chimes of Freedom – The Songs of Bob Dylan |
| I choose to sing the blues | Ray Charles | Greatest Hits Vol 1 |
| Fooling myself | David GoGo | Vicksburg Call |
| www.mulliganstew.ca | Coming UP – G Love. The Band with Van the Man | |
| Let the music play | G Love (Ben Harper & Marc Broussard | Lemonade |
| In and out of love | The Harpoonist and the Axe Murderer | A real fine mess |
| Tura Lura Lura (live) | The Band with Van Morrison | The Last Waltz |
| Next week – The Wood Brothers Interview | Mulligan Stew with tdm | |
| My babe | North Mississippi All Stars | World Boogie is coming |
| | | |