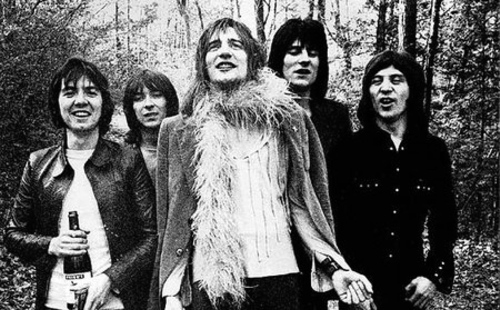 We've cleared the decks…
No guests.  No interviews.  No specials.  Just pure killer tracks for a Saturday night in the DEAD OF WINTER.
We all could use music, food, sleep, and friends.
Got a Net message asking why I only played Stay with Me by The Faces.  I explained because it was one of rocks greatest songs.
It got me to thinking about what else I love about those guys.
They were buddies.  It showed on stage. The audience was part of the party.
Bottles of Mateus were stashed behind speakers and amps. They did have fun.
At the end of the night, the boys were making splendidly sloppy rock and roll.  It was perfect.
So..we start with THREE Faces songs.
Gasoline Alley (Live at The Fillmore)
Had me a real good time
Memphis Tennessee
And then we're off with Chris Stapleton, Sting, Steely Dan, Rhiannon Giddons, Mark Knopfler, Fats, Taj, Townes, CoCo, Crazy Horse, Stones, Otis, Squib Cakes and Jackson Browne with The Load out and Stay.
Tonnes of Live tracks in here.
Enjoy. please raise a glass to The Faces.
Heads up – Working on a March 1st Juno Couch in Vancouver.
PLAYLIST:
| | | |
| --- | --- | --- |
| Mulligan Stew | Jan 13 2018 | Hallo Everybody!! |
| TD Mulligan – Mulligan Stew | Welcome to The Stew | www.mulliganstew.ca |
| gasoline alley (live) | The Faces | anthology |
| had me a real good time | The Faces | anthology |
| Memphis tennessee | The Faces | anthology |
| www.canadahouse.com | NEXT – Chris Stapleton – Steely Dan | |
| Midnight train to memphis | chris stapleton | from a room Vol 2 |
| deacon's blues | steely dan | Aja |
| Mulligan Stew Year 22 | www.mulliganstew.ca | |
| freedom highway | Rhiannon Giddons | Protest Now |
| driven to tears (live) | Sting | Bring on the Night |
| Brothers in arms (live) | mark knopfler | Ragpickers Dream |
| Squib Cakes | Tower of Power | best of |
| Mulligan Stew Year 22 | www.mulliganstew.ca | NEXT – Steve Earle and Lucinda Williams |
| Youre still standing there | steve earle and lucinda williams | I feel alright |
| changed the locks (live) | lucinda williams | Live at the Fillmore |
| entering white cecilia | new pornographers | challengers |
| TD Mulligan – Mulligan Stew | www.mulliganstew.ca | |
| Blue Monday (live) | Fats Domino | Live in Austin |
| let the four winds blow | Taj Mahal | Blues with a feeling |
| Cherry | Jesse Roper | single |
| buckskin stallion blues | Townes van Zandt | Sndtrk to 3 Billboards Outside Ebbing |
| Mulligan Stew Year 22 | www.mulliganstew.ca | NEXT – live tracks |
| Unbreakable | CoCo Love Alcorn | Wonderland |
| Mr Soul (live) | Neil Young and Crazy Horse | Year of the Horse |
| Roll me baby (live) | The Rolling Stones | From the vault |
| Just one more day (live) | Otis Redding | Live at The Whiskey |
| Mulligan Stew Year 22 | Thank you for listening | |
| The Load out (live) | Jackson Browne | running on empty |
| Stay (live) | Jackson Browne | running on empty |