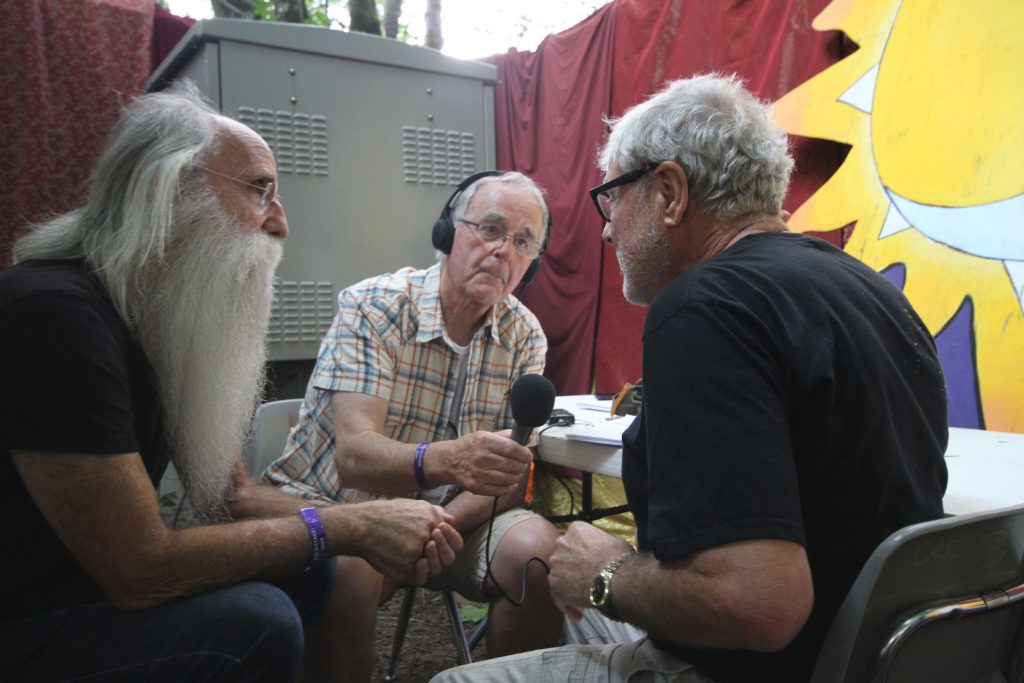 When you think about certain classic hits or artists
I never loved a man- Aretha
I'll take you there – Staple Singers
Brown Sugar – Stones
Wilson Pickett – Mustang Sally
Paul Simon – Still Crazy
Etta James – Tell mama
When a man loves a woman – Percy Sledge
You think of the bass player at Muscle Shoals – David Hood
Or When you hear  James Taylor, Warren Zevon, Linda Ronstadt, Phil Collins, Lyle Lovett,  Jackson Browne, Randy Newman, Leonard Cohen and CSN and Youngyou think of that bass player – Leland Sklar.  Long white hair and beard.
They've never met or been interviewed together.  Until this Saturdays Stew.
Terry found both at the Vancouver Island Music Festival and turned complete fanboy.
Things they talked about
Difference between music's crazy drummers and bass players.
"we're the guys who hold the band together..even if the people around us don't even know we do it."  David
"we're the glue.  The liaison between the melodic and rhythmic."  Leland
Both talked about "how one bass note can change the character in a hit"
Both talked about Muscle Shoals, Booker T and Stax, The Wrecking Crew and the LA session cats.
Leland says of David  "David developed a style of music that defined a locale"
David says  "It's not just me it's the rest of the Muscle Shoals guys.  I just keep it simple"
Leland adds " what's the least I can do to make this work"
Leland describes being in the studio and putting on his headphones..what he hears is "Barbara Streisand singing in his ears with a full orchestra."
And most interesting we ended up talking about Miles Davis and –  "the space between the notes"
PLAYLIST:
| | | |
| --- | --- | --- |
| Mulligan Stew | Aug 3 2019 | TDMulligan |
| Welcome to The Stew with tdm | Guests David Hood and Lelans Sklar | |
| Fire on the Bayou | The Meters | Anthology |
| Brother John/Iko Iko | The Neville Brothers | Fire on the Bayou |
| Last of my kind (live) | Jason Isbell and the 400 unit | Live at The Ryman |
| www.deanehouse.com | Coming UP – David Hood and Leland Sklar Interview | |
| Stay (live) | Jackson Browne | Running on Empty |
| Respect Yourself | The Staple Singers | Best of |
| This is Mulligan Stew | NEXT – David Hood & Leland Sklar Interview | |
| David Hood and Leland Sklar Interview | At Van Island Music Festival | |
| I never loved a man | Aretha Franklin | I never loved a man |
| Don't let me be lonely tonight | James Taylor | Greatest Hits |
| David Hood and Leland Sklar Interview | www.mulliganstew.ca | |
| Take me to the Mardi Gras | Paul Simon | Here comes Rhymin Simon |
| Millworker (live) | James Taylor | Flag |
| David Hood and Leland Sklar Interview | Mulligan Stew Podcast – Spotify. Google.Apple | |
| Mustang Sally | Wilson Pickett | The Wicked Wilson Pickett |
| David Hood and Leland Sklar Interview | Complete Interview on Mulligan Stew Podcast | |
| I'll take you there | The Staple Singers | Best of |
| Welcome back to Hour Two of THE STEW | www.mulliganstew.ca | |
| Proud Mary | CCR | Bayou Country |
| Carry on | CSN and Young | Deja Vu |
| Bird on a Wire | Leonard Cohen | Songs from a Room |
| Chelsea Morning | Joni Mitchell | Clouds |
| Sweet Jane | Velvet Underground | Best of |
| Unfaithful Servant | The Band | The Band |
| www.coyotesbanff.com | Coming UP – The Beatles, Stones, Who, Dylan | |
| Stand | Sly and the Family Stone | Stand |
| www.mulliganstew.ca | NEXT – The year 1969 Part 2 | |
| Get back (live) | The Beatles | Abbey Road |
| Here comes the Sun | The Beatles | Abbey Road |
| TD Mulligan – The Stew | www.mulliganstew.ca | |
| Long Distance Call (live) | Muddy Waters, Bloomfield, Butterfield, Duck Dunn | Fathers and Sons |
| Girl from the North Country | Bob Dylan and John Cash | Nashville Skyline |
| Pinball Wizard | The Who | Tommy |
| For what its worth | Buffalo Springfield | Buffalo Springfield |
| Have yourself a fine long weekend | David Hood. Leland Sklar on MulliganStew Podcast | tdm |
| you got the Silver | The Rolling Stones | Let it Bleed |
| | | |