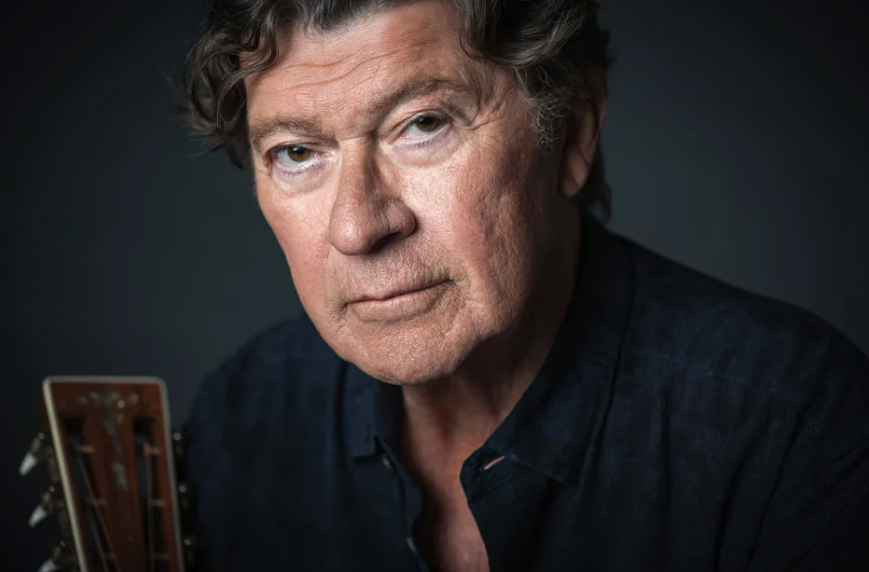 Photo-Don Dixon
"…and then there was one "
One of the greatest bands to ever walk our stages and play with our hearts has been taking the final curtain – one by one.
Ricky Danko
Levon Helm
Richard Manual
This week – the heart of The Band –  Robbie Robertson
Left to carry the flag, Garth Hudson.
Very few artists can ever lay claim to changing popular music. Just a handful.
Then one day it hits you– hammers you actually.  You get total clarity and begin to change everything you've known and held sacred.   So it was when Eric Clapton heard The Bands Music from Big Pink.  It was like all of a sudden he heard this record and said to himself, "Now this is what music should sound like." For me personally– this has always been one of the most interesting moments in rock music history.
My pal Corey called me just as I was finishing recording Saturday's Stew. "Sorry to tell you this but Robbie's gone"
He knew how special I thought Robbie Robertson was.
Dixie Down, Cripple Creek, I shall be Released, Chest Fever, King Harvest, Stage Fright, Acadian DriftwoodSomewhere down the crazy river. Once were brothers.
I had just enough time to finish The Stew with Once Were Brothers.
The last interview I did with Robbie will be repeated on the Mulligan Stew Podcast this week.
I promise there'll be a Robbie Remembrance on The Stew shortly.
The only reason I got to stand in the Winterland Ballroom one Thanksgiving Evening in SF was because Robbie invited me to attend The Last Waltz.
Changed my life.
Lots of music this week..check out the playlist.
Somebody, please take care of Garth.
PLAYLIST:
| | | |
| --- | --- | --- |
| The Summer Stews | Terry David Mulligan | playlist mulliganstewdotca |
| The Weight | King Curtis and Duane Allmann | Duane Allman Anthology Two |
| Voo Doo Woman | Susan Tedeschi | Just won't burn (25th ann) |
| Love Enough | Julian Taylor | The Ridge |
| Stay right here | Allison Russell | The Returner |
| Follow the Money | Buddy Guy and James Taylor | Blues don't lie |
| TDMulligan – 27 year | Coming UP – Tami Neilson and Brandi Carlile | details mulliganstewdotca |
| Yet to be | Rhiannon Giddens and Jason Isbell | You're the one |
| Next – | Tami Neilson-her most Canadian song | TDM |
| Manitoba Sunrise at Motel 6 | Tami Neilson | Kingmaker (live with Auckland Symphony) |
| Next – Van Morrison Live | The Summer Stews | TDMulligan |
| Domino (live) | Van Morrison | It's too late to stop now |
| Money | Roger Waters | Dark Side Redux |
| Deane House | River Cafe | With Thanks from CKUA |
| Can't let go | Lucinda Williams | Car Wheels on a Gravel Road |
| The way it is | Bruce Hornsby & The Range | The way it is |
| CKUA On Demand | The Summer Stews | Next – Marc Jordan |
| Coltrane plays the blues | Marc Jordan | Waiting for the Sun to rise |
| 50/50 Promo | TDMulligan | Good Luck |
| Coming Up in Hour Two | Bob Marley. Bonnie Raitt. Paul Simon | Little Feat. Mark Knopfler. King Curtis |
| Waiting in Vain | Bob Marley and the Wailers/Tiwa Savage | Africa Unite |
| I'm on your side | Bonnie Raitt | Fundamental |
| Rosy | Delbert McClinton | Self man man |
| Summer Time | Taj Mahal | Savoy |
| Irish Girl | Mike Campbell and Dirty Knobs | Wreckless Abandon |
| The Summer Stews – with TDM | NEXT Teskey Bros – Valerie June -and Paul Simon | [email protected] |
| This will be our year | The Teskey Brothers | The Winding Way |
| Fade into you | Valerie June | Under Cover |
| Gone at Last | Paul Simon – Jessie Dixon Singers | Paul Simon – Box Set 64/93 |
| Take me to the Mardi Gras | Paul Simon | Paul Simon Box Set 64-93 |
| Sleeping dogs best left alone | Doctor John | Guess things happen that way |
| Coyotes Banff – Thank You | The Summer Stews | mulligan stew dot ca |
| Dixie Chicken | Little Feat | Dixie chicken |
| Show me | Joe Tex | The Hits |
| Just a boy away from home | Mark Knopfler | Tracker (deluxe) |
| Once were Brothers | Robbie Robertson | Sinematic |