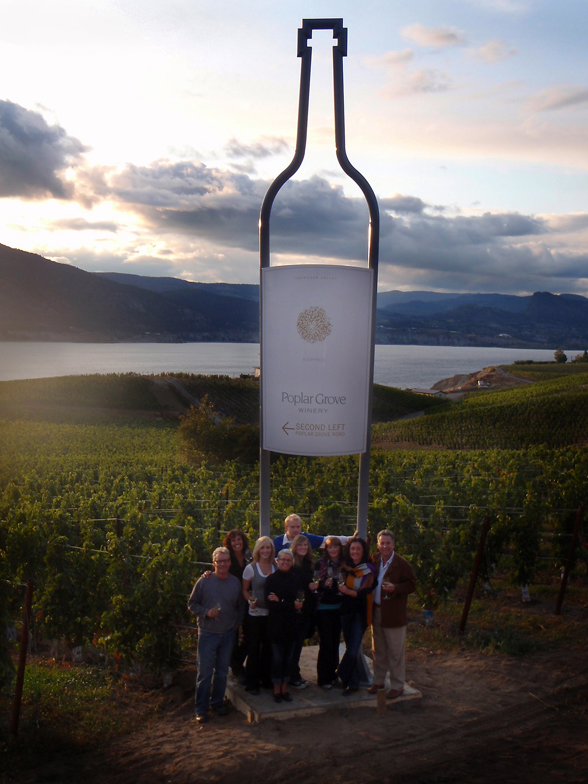 Devin Cuddy talks about touring with Blue Rodeo, working as a waiter and Dad Jim's "decoy" bottles of plonk at home.
Then the best winemaker in the world in 2012..Jorge Riccitelli at Bodega Norton in Argentina. Two wines from The Okanagan. One you might not yet be familiar with (but you will) and one that leads the pack.
Bruce Schmidt from Intersection in Oliver and Ian Sutherland from Poplar Grove on the Naramata Bench.
Then A serious chat with two wine minds. David Scholefield from Haywire and Okanagan Crush Pad in Summerland and the World Famous Wine Consultant he works with Alberto Antonini. We talk about the past 2 years in the Okanagan and where the region is headed.
And finally… Nicolo D'Afflitto the chief winemaker for iconic Italian winery – Frescobaldi !!
[divider]
THE SHOW
Podcast: Play in new window | Download
Subscribe: RSS
Devin Cuddy
Yes, he's
Jim Cuddy's
son but he's well on his way to being his own man with his own music. Plays piano like he grew up in New Orleans..has a nice loose singing style..the kind of style that people really take to. We found him on tour with Blue Rodeo but Wednesday , Thursday and Friday after the BR gigs he does his own midnight shows with his band.
Wednesday January 8th, Elk and Orsman – Banff AB – Time TBD
Thursday January 9th, Fratters – Red Deer AB – midnight
Friday January 10th, The Palomino – Calgary AB – midnight
While the music took shape..he was a waiter for 6 years..so we talk about that time. He also has a great story about Jim leaving "decoy" bottles of wine out on the kitchen counter when Devin was home with his friends.. The good stuff in Jim's cellar stayed locked up in the basement!!
www.devincuddy.com
[divider]    
Jorge Riccitelli – Norton
For the first time in the history of the
"Wine Enthusiast Wine Stars Awards"
, a South American winemaker was chosen as "Winemaker of the Year" by the prestigious magazine Wine Enthusiast in 2012. Jorge Riccitelli has been working as Chief Winemaker of Bodega Norton since 1992, after his long experience in other regions of the country. He has created well-known wines such as Norton Malbec D.O.C., the internationally awarded Norton Reserva Malbec, the successful Norton Cosecha Tardía Dulce Natural and sparkling wines such as Norton Cosecha Especial, among others.
Today
Jorge Riccitelli
is one of the models of Argentina's viticulture considering his expertise, the unmistakable style of his wines, his high adaptability to over 60 markets where Bodega Norton's wines a
Check him out on Tasting Room Radio.
www.norton.com.ar
[divider]
Bruce Schmidt
– Intersection South Ok  , manager at Calona Wines in the early 1980s. In the early 1990s, he ran a company that helped raise financing for the start of
Blue Mountain Vineyards & Cellars.
He remained a Blue Mountain shareholder for 18 years and regards that winery as an example of how to do things correctly in the wine business. Intersection now has 20,000 closely-packed vines on 10 acres. Cabernet Franc and Merlot are the reds and the whites are Sauvignon Blanc, Viognier, Marsanne and Riesling.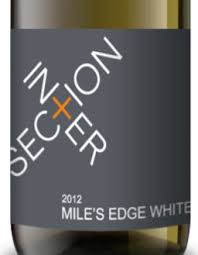 www.xwine.ca
[divider]
Ian Sutherland
, was inspired by the Naramata Bench's ability to produce exceptional fruit and decided to dedicate his entire eight acre property to premium grape production. It was this initial decision that helped to define Poplar Grove's present goal: to produce world-class wines from family owned estate grown fruit.
When
Tony Holler
invested in
Poplar Grove
, the Holler family brought with them 110 acres of prime vineyard sites located throughout the Okanagan Valley. The vineyard acres are appropriately named Holler Estate Vineyards. The Holler Estate Vineyards allow Poplar Grove to produce 100 percent estate grown top quality wines.
There's no better interview in my wine world than Ian. Enjoy!!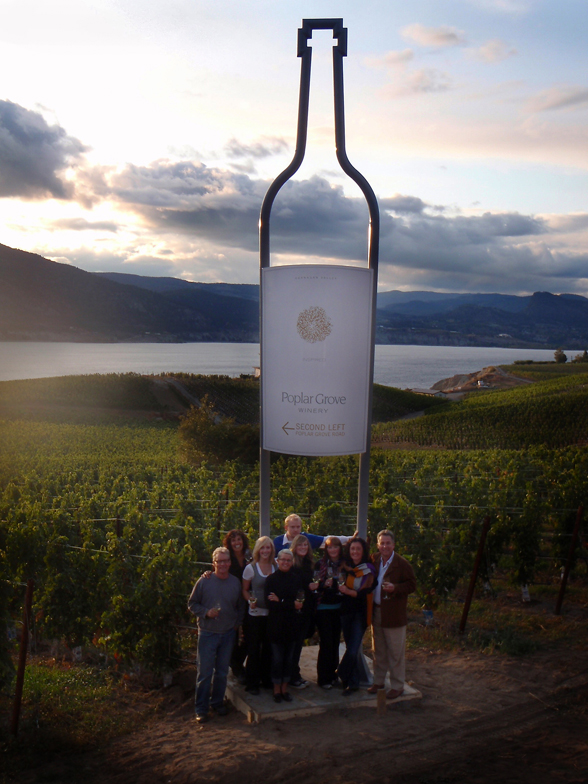 www.poplargrove.ca
[divider]
Wine Educator David Scholefield  World winemaker Alberto Antonini  
Haywire refers to wire once used for baling hay,  which tended to tangle in a chaotic way It is also an apt description of Christine Coletta and Steve Lornie's transition from city slickers to farmers and winery owners.
Of course, they cannot do it alone. To shape their wine style, the couple is joined by the talented
Michael Bartier
, working with
David
Scholefield
and consulting winemaker
Alberto Antonini from Italy. 
The wine is made at the couple's
Okanagan Crush Pad Winery
in Summerland, BC. Okanagan Crush Pad is a 30,000 case facility that makes Haywire, Bartier Scholefield and many other fine wines for grape growers who are emerging BC vintners.
I had the opportunity to sit down with David and Alberto to talk about their wines from the past 2 years and the talk turned into the future for them and the Okanagan.
Alberto and David have been friends for years.  David pointed out that jet-setting consulting winemaker Alberto, who makes wine in several regions, is the only winemaker to consult in the southernmost wine region, Patagonia, as well as the Okanagan's northernmost! He visits four times a year for several action- packed days. His advice has been invaluable.
This segment is pure wine talk.. no BS.
If you're in the wine business, dream of being in the wine business or are just a wine fan..listen up. These guys are the real deal.
http://www.haywirewinery.com
[divider]
Nicoli D'Afflitto – Frescobaldi
Here's how cool Nicolo D'Afflitto's job is. He's the chief winemaker for Italian wine giant Frescobaldi. Frescobaldi began making wine in 1308.
Two of the first clients were dudes named
Michelangelo
and
Henry V111
. They still have the paperwork. In 1995 the Marchesi de Frescobaldi partnered with
Robert Mondavi
to produce Tuscan wines. In May 2006, the Frescobaldi family merged their wine holdings into a new venture partnership, Tenute di Toscana, with Stolichnaya Vodka and Michael Mondavi. We're talking big time wines for the entire World and we're talking to the guy that makes them.
www.frescobaldi.it
Cheers Y'all!
STORIES WE'RE WORKING ON:
Ethan Hawke – Actor. Director. Food and Wine Fan
Stefano Chiarlo at the PALAS Cerequio La Morra in Barol