Can food be funny?  Yup! If the chef is Colin Mochrie from Who's Line Is It Anyway?
We visit two Okanagan wineries and talk to Joe Luckhurst at Road 13 and then David Paterson from Tantalus.
We finish with Marcelo Papa..star winemaker at Marques de Casa Concha in Chile
 

Podcast: Play in new window | Download
THE SHOW
David Paterson – Winemaker and GM at Tantalus


Tantalus is situated on the eastern slopes of the Okanagan Valley, overlooking the shores of Lake Okanagan and Kelowna.
Originally known as Pioneer Vineyards, the site was first planted to table grapes in 1927 and today is known as the oldest continuously producing vineyard in British Columbia

David Paterson is a Kiwi and a Canadian, having been born in Vancouver. He received his winemaking degree from Lincoln University NZ & following time spent working in the local NZ industry he travelled the wine world gaining experience at premium wineries in Oregon, France & Australia.
He landed at Tantalus in 2009 and with seven successful vintages under his belt with the winery he took on the role of GM as well in 2016. Prior to joining Tantalus, David was working with celebrated South Australian producer Henschke Cellars. 
As such he got to work the vineyards at the world famous Hill of Grace.  Riesling has always been the leader at Tantalus however, through  David's guidance Chardonnay, Pinot Noir and Blanc de Noir have caught our attention.
We found each other between crushes..
Joseph Luckhurst  – GM at Road 13.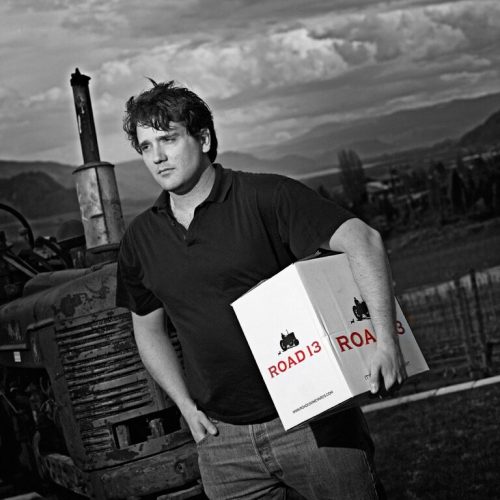 Joseph is the next Luckhurst working The Golden Mile in the South Okanagan.
His parents Mick and Pam gave their lives and their passion to get this winery to liftoff.
They've now handed off the reins to Joseph and he's done a great job  keeping Road 13 popular and productive.
They have always placed in the Top 10 wineries.  This year they were awarded third best in all of Canada at the WineAlign National Wine Awards.
This is how they did it…
Platinum:
2014 Syrah Mourvedre
Silver:
2012 5th Element
2012 Jackpot Syrah
2014 GSM
2012 Sparkling Chenin Blanc
2014 Syrah Malbec
Bronze: 
2014 Roussanne
2015 Chip off the Old Block Chenin Blanc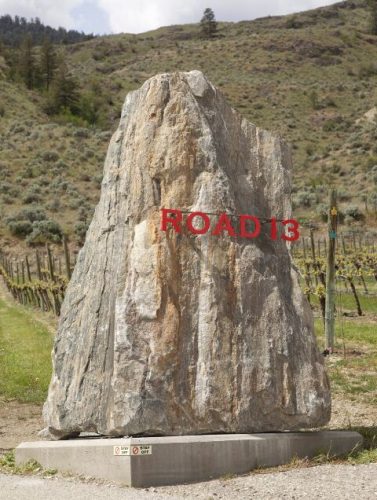 So,  you can see they touch all the bases.
Joe also reveals next year's plans and that they have a new winemaker on board… Jeff Del Nin from Church and State.
Colin Mochrie –  Actor, Comic, Zoodle maker. (Who's line is it Anyway?)
Colin comes back to Vancouver at least one a year to raise funds for  the Colin Mochrie Scholarship Fund at VTSL's theatre school, the Improv Comedy Institute. Established in 2014, the scholarship provides assistance to people wishing to study improv but are unable to do so because of financial barriers
Founded in 1980 Vancouver TheatreSports League is Vancouver's #1 improv comedy company and a well-respected international leader in the art form. In addition to Colin Mochrie, alumni include improv super-star Ryan Stiles(also from Whose Line Is It Anyway), actresses Ellie Harvie (Stargate SG-1, New Addams Family) Nancy Robertson (Corner Gas) and Veena Sood (The X-Files, Supernatural).
And just like last time Colin leaves us with a recipe from his state-of-the-art kitchen thingy.
Colin also brings stories of working stages such as The Kennedy Centre, where he took his pants off – for  a laugh!
Now.  Where did I put that Zoodle Recipe??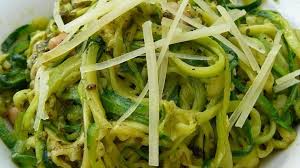 2 medium zucchini
2 Tablespoons (30ml) olive oil, divided
1/2 pound (225g) peeled and de-veined shrimp or what ever protein you prefer
3 large cloves garlic, minced or crushed
1/2 red bell pepper, seeded and sliced thin
3 green onions, sliced
1 large egg
 2 cups (480ml) bean sprouts
1/3 cup (80ml) roasted peanuts
Few lime wedges for serving (optional)
for the sauce:
2 Tablespoons (30ml) rice vinegar or distilled white vinegar
2 Tablespoons (30ml) fish sauce or to taste
3 Tablespoons (45ml) ketchup
1 teaspoon (5ml) packed brown sugar
1/2 teaspoon cayenne pepper or 1 small red chili, sliced
1 teaspoon chili garlic sauce, or to taste
Directions:
Make the sauce: In a small bowl, combine the sauce ingredients (vinegar, fish sauce, ketchup, brown sugar, cayenne pepper, chili garlic sauce), then set aside.
Cut the zucchini into noodles or long pasta by using a spiralizer..
Heat a large pan on medium high heat. Add 1 Tablespoon olive oil (reserve the other half for later). Then add zucchini noodles and cook for 2-3 minutes or until the zucchini noodles are tender. Don't overcook the noodles. The zucchini noodles should be slightly crunchy with a tender bite. 
Let the noodles rest for about 3 minutes to allow as much moisture as possible to release. Remove the noodles from the pan and drain the excess water.
Carefully wipe the same pan to remove the excess water, and then re-heat the pan on medium high heat. Add the remaining olive oil and garlic. Cook the garlic until soft and translucent, about 30 seconds. Add the shrimp and cook until shrimp is tender and cooked through, about 3 minutes.
Add the bell peppers and green onions. Cook for about 1-2 minutes or until tender. Add the egg and stir in with the vegetable until the egg is cooked.
Add the zucchini noodles back into the same pan, then add the sauce. Cook for about 1 more minutes or until the zucchini noodles are heated through. Then stir in the bean sprouts.
Serve the warm zucchini pad thai noodles with roasted peanuts, cilantro, and lime wedges.
Marcelo Papa  – Winemaker at Marques de Casa Concha & Concha Y Toro , Chile
For the past 10 years, Marcelo Papa has been responsible for crafting some of Chile's best known and most popular wines – Concha y Toro's immensely successful and internationally acclaimed
Casillero del Diablo range.  Educated at Catholic  University in Santiago. He was subsequently recruited by Kendall–Jackson, where he spent the next five years before joining Concha y Toro in 1998. In 1999, a year after working on his first vintage of Casillero del Diablo wines, Papa was given the additional assignment of working on Concha y Toro's prestigious Marques de Casa Concha wines, and named chief winemaker of Concha y Toro's Puente Alto cellar.  Under his direction, Marques de Casa Concha wines have earned some of the most vaunted accolades in Chilean winemaking.
The 2002 edition of the Chilean Wine Guide hailed Papa's Marques de Casa Concha Cabernet Sauvignon as "Best Wine of its Class," while in the U.S. Wine Spectator and Wine Enthusiast magazines each named it among their "Top 100 Wines of 2002." Wine Spectator then went on to recognize Papa's Marques de Casa Concha Merlot as one of its "Top 100 Wines of 2003."  In 2005 Papa captured Chile's highest honor, when the Chilean Wine Guide distinguished him as its "Winemaker of the Year," with a special tribute to his remarkable work on the Casillero del Diablo range, referencing Papa's capacity to "create exceptional wines that are widely available in the marketplace, yet achieve extraordinary levels of quality in spite of large production levels."
We taste and talk our way through the following wines:
Marques de casa Concha 2014 Chardonnay from the Limari Valley.  Around $20
Marques de Casa Concha Carmenere  2014 from the Cachapoal Valley. Around $22.00
Marques de Casa Concha  Cabernet Sauvignon  2014.   From the Maipo Valley.   Also around $22.00
http://www.conchaytoro.com/descubre-vinos/enologo/marcelo-papa-en/
http://www.conchaytoro.com/?lang=en_us
Podcast: Play in new window | Download
STORIES WE'RE WORKING ON:
Kettle Valley
Charles Smith hits the jackpot
Fall wines
Ben Glaetzer
What are they drinking in Alberta?