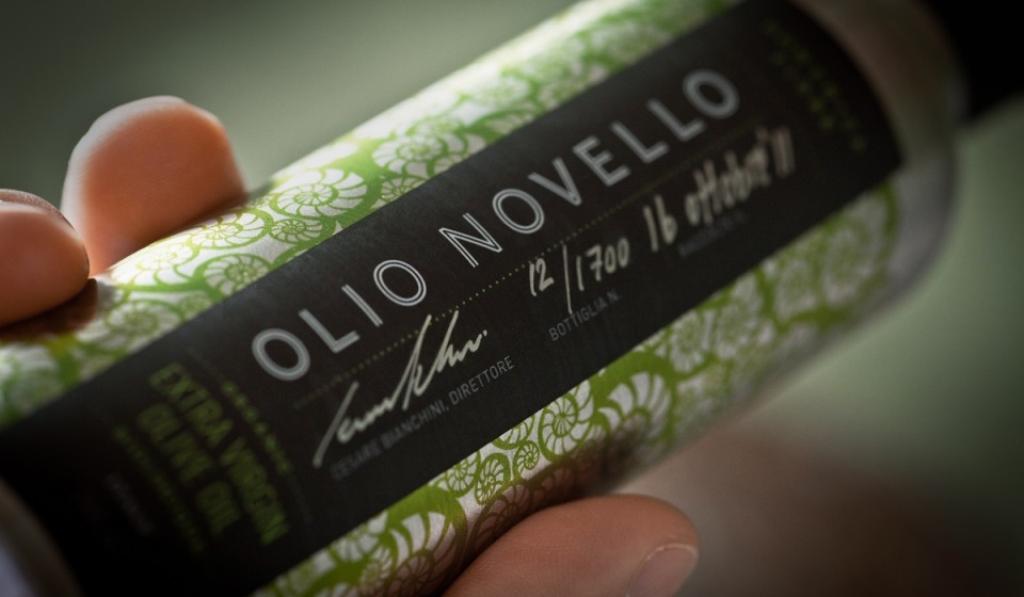 It was such a great afternoon..Frank Giustra poured this year's  version of Dominica Fiore the best Olive Oil in the World, John Skinner founder of Painted Rock pours this year's  releases  AND  it all took place at Umberto Menghi's  smashing new restaurant Giardino.
Plus Jim Cuddy and Colin Cripps from Blue Rodeo join Moray Tawse to explain how the new wines The Cuddy by Tawse came to be. All three stories are different.
The best part is all three are storytellers…
Podcast: Play in new window | Download
THE SHOW
 Frank Giustra – Domenica Fiore Olio Reserva Olive Oil
John Skinner – Founder of Painted Rock Wines
Umberto Menghi –  Owner of Giardino
 Movie financer and master mind behind some of the most outstanding mining transactions in Latin America, Frank Giustra, Canadian born banker joined Mexican Billionaire Carlos Slim and President Bill Clinton to fight poverty in the region.
Rather than attempt to list all of Franks business credits..May I suggest you just Google his name?
Now. About Frank and his Olive Oil..
Frank Giustra always carries several bottles in his luggage whenever he travels.
It has only been five years since Frank bought his first olive tree in Umbria, Italy. At the time, he knew nothing about olive oil and was buying it at Safeway like everyone else.
But Domenica Fiore Olio Reserva, named after his mother, has received the highest score of more than 700 entries from 22 countries at the inaugural New York International Olive Oil Competition. Actually he's won it multiple times.
He has always loved food, but now he is obsessed!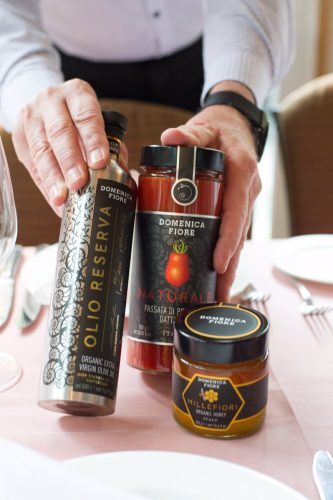 Domenica Fiore Olio Reserva
Domenica Fiore Olio Reserva extra virgin olive oil ($34.95 for 500 ml) is encased in stainless steel bottles, and vacuum sealed with nitrogen to preserve antioxidants and polyphenols. Each bottle is labeled with a hand-written lot number
Frank asked his friends John Skinner from Painted Rock and Umberto Menghi from Giardino to partner with him to launch this year's Olio. I wish you could have been there because it was such fun but we did interviews with all three so you could join us.
John Skinner  was a stockbroker in Vancouver for more than 25 years, during which time he became an avid wine enthusiast. John and his wife Trish dreamed of having their own vineyard after spending time exploring wineries in the South of France with their family.
In 2004, recognizing that the quality of wines in this region was improving dramatically and driven by both his passion for wine and his desire to create a legacy business for his family, he purchased the land in south Penticton known locally as "The Blackhawk." Perched high on a bench on the east side of Skaha Lake south of Penticton, backing up against the famed climbing bluffs.
He planted in 2005 and 2006 and now has roughly 25 acres under vine, all of it Bordeaux reds or Syrah except for a block of Chardonnay.
On the advice of consultants, he has planted multiple clones of every variety, giving his winemaker good blending options. John was confident that this terroir and its site influences presented "a unique opportunity to create exceptional wines" and that he had "both the opportunity and the obligation to do this property justice." John and Trish's vision was and remains to grow exceptional grapes in their estate vineyard to produce ultra-premium wines that reflect the perfect marriage of new world fruit and old world processes, employing the best modern technologies and expertise, while respecting old world traditions. Most satisfying of all is that the whole family has been involved.
Umberto Menghi is already a legendary figure in Vancouver and he's not done yet!!
Born in Pontedera, Tuscany, Umberto was sixteen years old when he enrolled in a hotel school in Rome, beginning a life-long commitment to food and the world of great restaurants. After more training in London and Paris, he moved to Canada in 1967, and headed west in 1969. In Vancouver he noted the absence of authentic Italian cooking and determined to do something about it.
In 1973, from a yellow house on the fringe of downtown Vancouver, Umberto started a restaurant revolution with his fresh, authoritative food.
His latest may be his greatest.   Giardino..just steps from his starting point back in 1973.
Moray Tawse
Jim Cuddy
Colin Cripps   The Cuddy by Tawse Winery
Three friends combine their talents to make a new wine label in Niagara – The Cuddy!!  

I've long known  that Jim Cuddy (Blue Rodeo & The Jim Cuddy band) will talk wine at the drop of a hat. He's been a welcome guest on Tasting Room Radio many times.
He has a great cellar at home in Toronto and when he's on the road,  between shows he goes shopping for wines – especially in Alberta – and loads up the luggage space with selected releases and rare wines.
During the year you can find him playing one-off gigs at wineries all over the country.
Jim is the guy responsible for the amazing talent that graces the stages of The Canadian Culinary Championships. The Gold Medal Plates.
He's then invited to join the organizers for journeys to South Africa, Italy, France, Spain. So you can see he's truly a "wine guy"
So,  given the opportunity to create wines with his name on the label who better to partner with than perennial  Winery of the Year Winner Moray Tawse at Tawse, Niagara.
The third member of the winemaking/blending team was guitarist Colin Cripps (Blue Rodeo). The Crippler really knows his wines and especially his blends.
They gathered at Tawse and went over tasting notes on the Chardonnay and then had what Jim called " a chemistry lesson" when blending the red.
They made a 1000 cases of each and they've been released to welcoming reviews.
And how do we in the West get our hands on The Cuddy by Tawse?  Moray explains.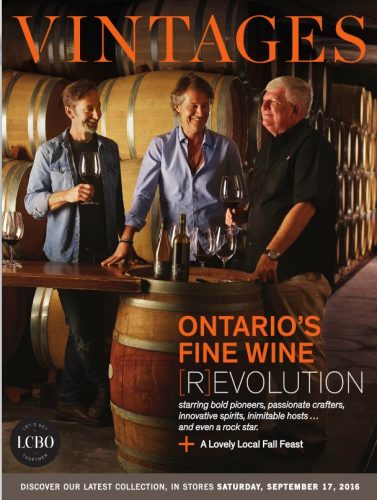 http://www.jimcuddy.com/introducing-cuddy-by-tawse-wines/
https://twitter.com/colincripps
 

Podcast: Play in new window | Download
STORIES WE'RE WORKING ON
Miranda Halliday  Elephant Island
Bob Ferguson – Kettle Valley
Lindsey O'Rourke – Tightrope
Angus An – Maenam/Fat Mao
Clement Chan – ToraFuku
IVSA Tasting in Victoria.
Meet the Makers
Okanagan Falls Spring Pour
Naramata Bench Pours on the Coast
Garagiste North – Vancouver
New Zealand pours in Vancouver
Top Drop  Spring 2017