Ben Bryant Hosts Mission Hill Winemakers Dinner – at Deane House Calgary
THE SHOW
Ben Bryant Chief Winemaker Mission Hill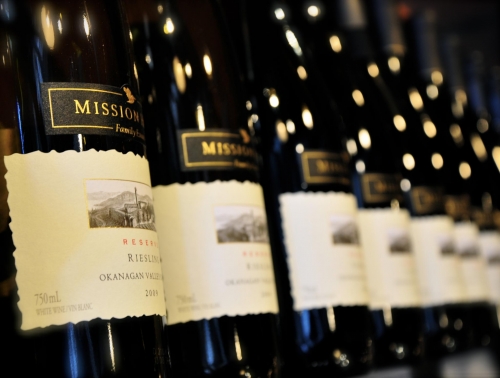 Ben Bryant, an Australian winemaker with an exceptional resumé, has joined
Mission Hill Family Estates as chief winemaker.
Joining the Mission Hill Family Estate <https://www.missionhillwinery.com/>
last summer, Ben Bryant is looking to make his mark on the Okanagan wine
scene.
After growing up and gaining a masterful wine knowledge in New South Wales,
Australia, Bryant refined his skills working throughout Asia before
returning home to Australia where he served as chief winemaker for Jacob
<http://www.jacobscreek.com/> 's Creek, St. Hugo <https://www.sthugo.com/> ,
and Wyndham Estate <https://www.georgewyndham.com/> .
On his LinkedIn profile, Ben writes: "Pernod Ricard Winemakers is the global
brand owner and distributor of premium wines from multiple countries of
origin, including Jacob's Creek, Wyndham Estate and St Hugo (Australia),
Brancott Estate and Stoneleigh (New Zealand), Campo Viejo (Spain) and
Graffigna (Argentina)."
Ben succeeds another Australian, Darryl Brooker, now Mission Hill's
President , who in turn succeeded John Simes who retired in 2014 after
running Mission Hill's cellar since 1992.
"I found Ben through contacts in Australia," Darryl says. "It took me a year
to convince him to come." He succeeded after flying Ben and his wife to the
Okanagan. Here, Ben was swept away by the Okanagan's beauty, the winemaking
opportunities and the passion of Mission Hill's owner, Anthony von Mandl.
"To me, it is endless opportunity that is untapped," Ben says in an
interview. "There is a fair element of personal challenge to come and put
the place on the map. It is about the wine. You never find a region where
you have two regions in one. You have the classic Bordeaux varieties in the
south and then you have the Burgundian varieties in the north."
As well, the Bryant's "have a young family and we want to expose them to
international places. They lived in Asia with us. Canada is a country that
is very similar to Australia in terms of societal values."
The 2018 vintage in the Okanagan got him off on the right foot. "Super
impressed," Ben says. "It was such a mild growing season that everything was
able to ripen naturally. The Cabernet Sauvignon is an example: there is no
green, there is no herbaceousness. There is a leafiness. Everything has
amazingly fresh acid structure. There is a brightness and a purity to the
fruit. It is the perfect vintage to start."
Mission Hill has landed a chief winemaker who, through the winery and its
vineyards, will change winemaking in The Okanagan.
Sal Howell – Owner Deane House and River Café Calgary
Wonderful host and a true culinary visionary.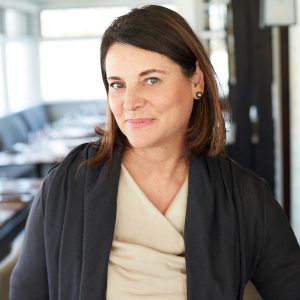 Sal Howell is a successful restaurateur who has helped shape the culinary
landscape in Western Canada. She is the founder and proprietor of River Café
and Deane House in Calgary and is deeply committed to local seasonal food,
sustainable agriculture and exploring the local 'terroir' and 'taste of
place' of the Prairies, and Canada. Sal has fostered the hospitality and
pioneered the culinary 'farm to table' philosophy at River Café since its
inception in 1991.
River Café has numerous accolades including, Canada's 100 Best Restaurants,
Best Overall Restaurant, Avenue Magazine and Where Magazine, WHERE Magazine
Ocean Wise Sustainable Seafood Award for dedicated effort in supporting the
Ocean conservation, and inclusion in the international publication 'The 1001
restaurants you must experience before you die'.
Deane House Chef de Cuisine Galasa Aden
His whole bio is contained in our interview..great guy.
His parents are proud of him – it only took five years.
Colin Linden – Musician, singer/songwriter AND serious wine fan.
Colin Linden is a genuine renaissance man of roots music. He's a member of
the highly successful trio, Blackie and the Rodeo Kings, a singer and
songwriter, an in-demand and prolific record producer, musical director on
the hit TV show Nashville and sideman to the stars as guitarist for the
likes of Bob Dylan, Bruce Cockburn, Emmy Lou Harris, Robert Plant and Alison
Krause.
Played a gospel concert with T Bone Burnett at the Obama White House.
We find Colin sitting outside the back door of his studio in Nashville.
He's just wrapped up producing Keb Mo, Blackie and the Rodeo Kings, Lucinda
Williams, Bruce Cockburn and many others.
And we talk about his newest album Amour with friend and partner Luther
Dickinson.
Amour features vocals by the cast members of Nashville TV series.
Best of all Colin can talk wine for hours..and he buys wines on both sides
of the border.
<http://www.colinlinden.com/> http://www.colinlinden.com/
STORIES WE'RE WORKING ON:
Vintage 2019 – featuring
Senka Tennant Terra Vista
Grant Stanley Spearhead
Howard Soon Vanessa
Bailey Williamson Blue Grouse
Meet the Makers – Victoria
Kristen Needham – Sea Cider
Jenny Garlini – Blue Grouse
Stags Hollow – Keira Le Franc
Roche Wine – Penelope Roche
Fitzpatrick Family Wines – Gordon Fitzpatrick
Ricco Bambino – Sebastien Hotte
Sheringham Distillery – Jason MacIsaac
A visit to Blue Grouse