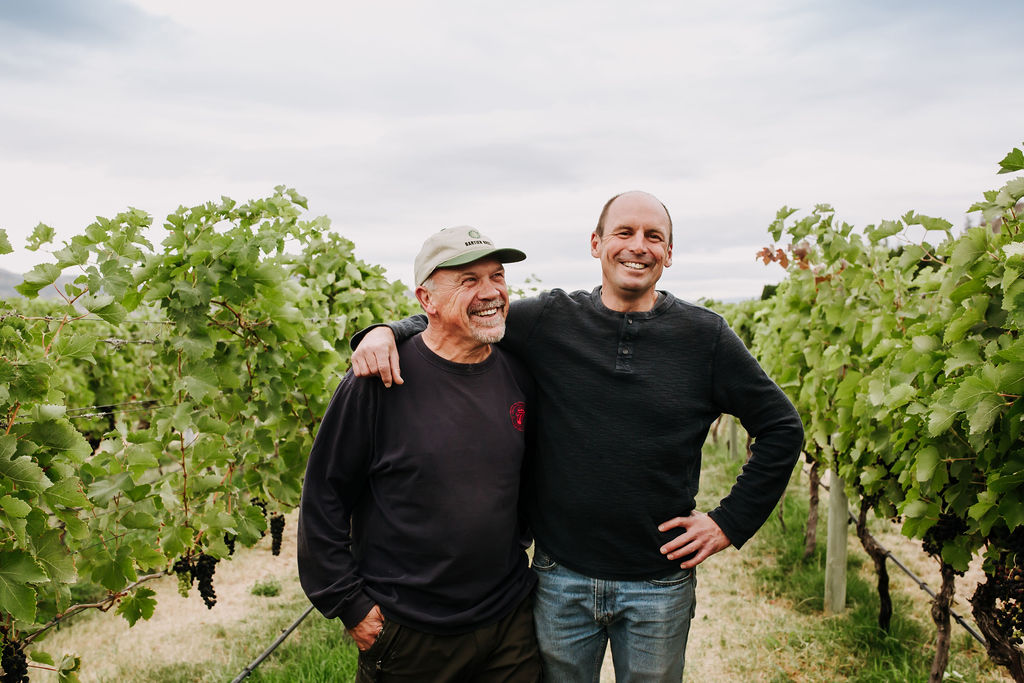 THE SHOW
New Releases from Michael Bartier (Bartier Bros) and Mark Hopley (Hester Creek)
 It's that time of year.
Spring brings new releases from all the wineries.
Michael Bartier  – Winemaker  (and co-founder) at  Bartier Brothers (Black Sage Road)
2019 Rose –  (Now) $17.99
2019 – Grenache Syrah Mourvedre (April) $41.99
2019  Merlot –  (May) $22.99
2019 – Orchard Row (June) $36.99
 "Less is More"
 That's Michael Bartier's winemaking philosophy. No big over oaked glob in the glass.
Lean and sharply defined. Flinty. Minerality.
The Rose is a smash hit. A blend of Merlot, Chardonnay and Gewurztraminer.

Strawberry, melon and floral notes.  A clean beauty in the mouth. And best of all,  affordable.
The GSM  is tough to grow and blend. Thus the price tag. But what a payoff.  It stays with you long after you finish.
The Merlot is one of the very best in Canada. Blueberry, cherry on the nose. Flint, wet stone follows. Very affordable. Highly Recommended.
The Orchard Row is quite a story. Its basically a long row of plantings left over from other vines. Like a hedge you can drink.

It's a field blend of Cab Franc, Merlot, Gamay and Pinot Noir. All from the same row.
It was the Bartier house wine until friends convinced them to share.
Its fantastic.
Just like the winemaker.
NOTE – Michael takes us through the partnership he's formed with one of France's most influential wineries – Boutinot.
The wine Michael makes for them is called Boutinot – Project B.  A blend of Sauvignon Blanc and Semillon.
Bartier Bros Tasting Room now open.  Daily 11am to 5PM
Mark Hopley – Winemaker at Hester Creek (Golden Mile)
Hester Creek is celebrating over 50 years of winemaking.  Those years started with the original owner/winemaker Joe Busnardo.
In 1968, BC wine pioneer Joe Busnardo came upon an excellent property sheltered below the rugged desert bluffs of what is now known as the Golden Mile Bench.  Joe recognized the potential for growing superior vinifera grapes on this unique land.
Today, a total of 115 acres comprise the Hester Creek  estate, which is planted with Cabernet Franc, Cabernet Sauvignon, Chardonnay, Gewürztraminer, Italian Merlot, Malbec, Merlot, Petit Verdot, Pinot Blanc, Pinot Gris, Sémillon, Syrah, and Trebbiano on 22 vineyard blocks.
All that wine history allows  all of to us celebrate the release of the….
2020 Hester Creek Trebbiano.  52 year old gnarly vines that deliver absolutely classic flavours. Do yourself a favour. FIND THIS WINE.
Apple, Melon and topical fruit on the nose and clean citrus, honey and minerality in the mouth. $22.99 plus tax
Thank you Hester Creek.  Thank you Mark. Thank you Joe.
2020 Hester Creek Pinot Gris-Viognier.  (2/3 Pinot Gris .1/3 Viognier)
Hand picked and pressed. Stainless steel retains the complexity and flavours we've come to love.
On the nose,  peach, clover.  In the mouth peach and honey and minerality. $16.99 plus tax.
This is a Save On Foods special. Also available at winery.
Hester Creek is now welcoming guests at Terrafina Restaurant for patio service and take-out from 12:30-4pm, Wednesday-Sunday.   Check out the Hester Creek Website for special events.
Wine release dinners
Rose/Trebbiano April 3  – sold out
Bubble evening  May 13/14. Ti Amo and Old Vine Brut
The Judge – July 8 Summer Dinner.
Mark also looks ahead to future releases this Spring and Summer..
Ti Amo,  Old Vine Brut and The Judge.
STORIES WE'RE WORKING ON
April is BC Wine Month
Valleys of Wines
New Spring Releases
Eat Local. Checking in with the restaurants