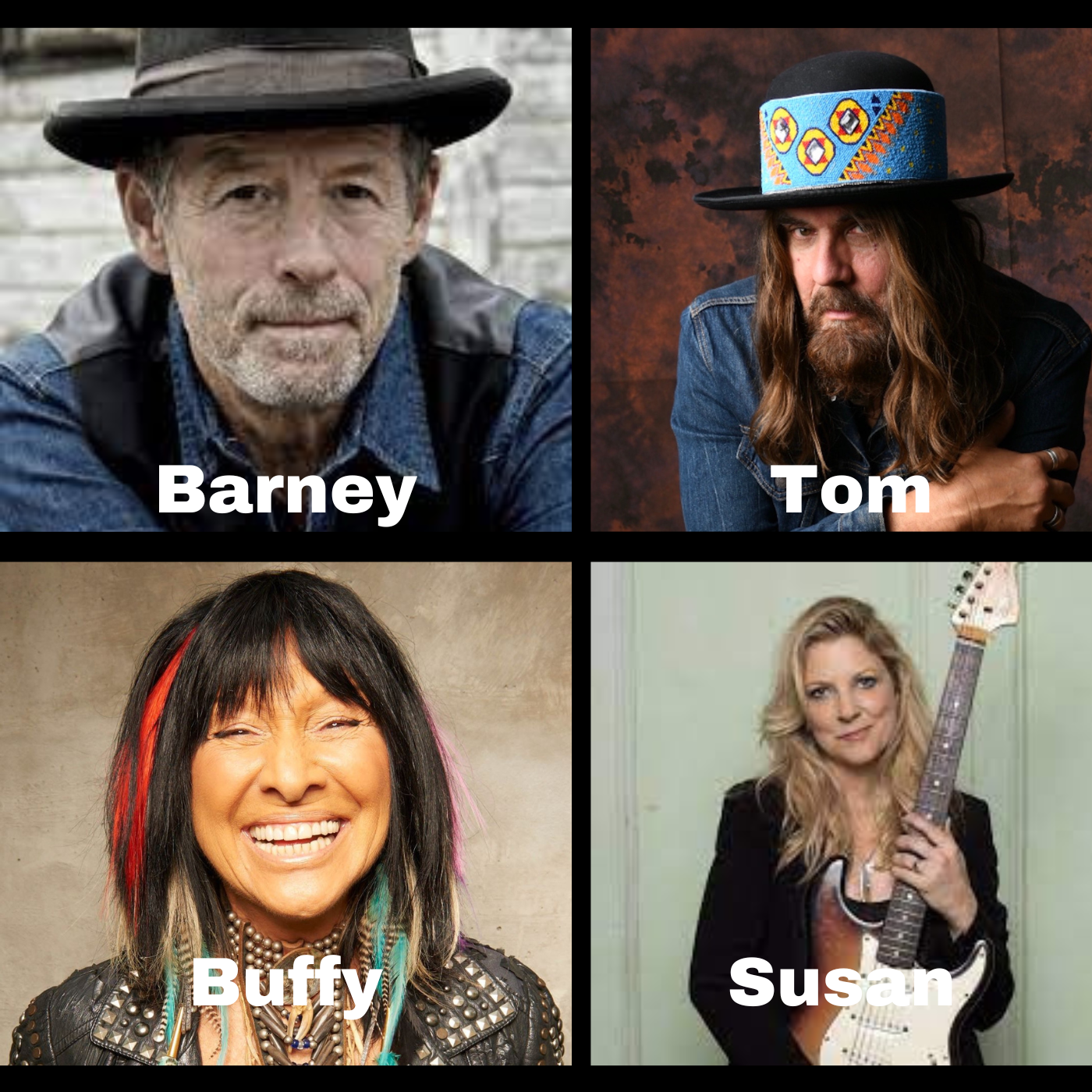 Barney Bentall  is a quick 2-3 minutes. Tom Wilson is slightly longer. (As befitting a member of the Order of Canada.)
Both have dates in Calgary and Edmonton over the next couple of weeks.
Tom with a trio including his son Thompson.
Barney is touring with Cariboo Express. (18-19 years now)
Raising funds this time for
Classroom Champions
And CASA Mental Health
They've raised over 5 million dollars. A lot of it is for food banks who are hit hard heading into year-end.
Cariboo Express includes
Matt Masters
Dustin Bentall
Ridley Bent
Geoffrey Kelly -spirit/west
Simon Kendall – Doug/Slugs
Almost 15 members in total.
Every show has a surprise guest. (In Calgary it's William Prince)
Buffy's documentary Carry It On has been nominated for an International Emmy Award. Only one from Canada. She's stopped touring. Reflects on her life shown on screen and surprisingly what was left out. Awards Nov 20.
Susan Tedeschi has rereleased her 25-year-old second solo album Just Won't Burn.
She remembers that back then there were really only two female solo artists trying to break through in the blues. She and Bonnie Raitt.
The album includes original tracks, outtakes and newer versions of original songs done live by Tedeschi Trucks Band.  She was also awarded recognition from the Smithsonian Institute.
The complete interviews  with Buffy and Tom will be found on Mulligan Stew Podcast and the TerryDavidMulligan YouTube Channel
Thank you
PLAYLIST:
| | | |
| --- | --- | --- |
| Mulligan Stew – Four Guests | Buffy. Tom Wilson. Barney Bentall and Susan Tedeschi | with TDMulligan |
| Must be a better world | B B King – Dr John | Deuces Wild |
| Joy in my Life (live) | John Fogerty | Joy in my life |
| Tura Lura Lura (live) | The Band with Van Morrison | The Last Waltz |
| Hit the road Jack | Ray Charles | True Genius |
| Gone at Last | Paul Simon (P Snow. Jessie Dixon) | Still crazy after all these years |
| Deane House – River Cafe | Coming UP – first interview with Buffy | TDMulligan |
| Keep me in your heart | Warren Zevon | The Wind |
| Sip the Wine | Rick Danko Band | Sip the Wine |
| TDMulligan | NEXT – Buffy talks about her documentary | Carry it on |
| Buffy Ste Marie Interview | About her documentary | Carry it on |
| Power in the Blood | Buffy Ste Marie | Power in the Blood |
| Buffy Interview | complete interview on Mulligan Stew Podcast | and tdm YouTube Channel |
| Carry It On | Buffy Ste Marie | Medicine Songs |
| Buffy Ste Marie | Talking about her documentary | Carry It On |
| Universal Soldier | Buffy Ste Marie | It's my way |
| It's a Hard Rain Going to Fall | Leon Russell | Leon Russell and the Shelter People (Bonus Tracks) |
| Mulligan Stew | Guests in Hour 2 Barney, Tom Wilson and Susan Tedeschi | details mulliganstewdotca |
| Mulligan Stew CKUA | NEXT Barney, Tom and Susan | info at MulliganStewdotca |
| The Times they are A'Changing | Bob Dylan | The times they are a'changin' |
| What's going on | Marvin Gaye | What's going on (deluxe) |
| Freedom Highway | Rhiannon Giddens (Bhi Bhiman) | Freedom Highway |
| Barney Bentall Interview | Cariboo Express Playing Calgary Oct 27 Bella Hall | and Oct 28 Festival Hall Sherwood Park |
| Hey Mama | Barney Bentall | The Drifter and the Preacher |
| Coyotes Banff | Coming Up Tom Wilson and Susan Tedeschi | Playlist mulliganstewdotca |
| Already Gone | Mike Szabo | Take My Heart |
| Tom Wilson Interview | Playing Festival Hall Calgary Oct 19 | Oct 20 Festival Place Sherwood Park |
| Long Way Down | Tom Wilson | Blue Moon Drive |
| Susan Tedeschi Interview | 25th anniversary of Just Won't Burn | complete on Stew Podcast |
| Just wont burn | Susan Tedeschi | From original and live with TTBand |
| Susan Tedeschi Interview | Just wont burn 25th anniversary re-release | complete interview on Podcast and you tube |
| Mama, he treats your daughter mean | Susan Tedeschi | Just won't Burn |
| Susan Tedeschi Interview | Complete interview on Podcast | and video version on tdm YouTube Channel |
| Angel from Montgomery | Susan Tedeschi | Just Won't Burn |
| Susan Tedeschi Interview | complete interview on Mulligan Stew Podcast | and tdm YouTube Channel |
| Little by Little | Susan Tedeschi | Just Won't Burn |
| | | |