hello


The Fourth and last tour of New Zealand..featuring the wineries of Central Otago
Felton Road, Carrick and 8 Ranges.  

Podcast: Play in new window | Download
[divider]
The SHOW
In March of this year I was pleased to accept an offer from Wines of New Zealand to tour various  regions with an emphasis on their sustainability programs.
We hope you had a chance to listen to the first three specials..they can be found on www.tastingroomradio.com.
They are also Podcast on iTunes. (The Tasting Room with Terry David Mulligan)
And so we arrive at NEW ZEALAND SPECIAL #4…(imagine that line with a lot of echo)
After flying into Queenstown on the South Island we head for Central Otago.
The region is famous for their world class Pinot Noir but there are other varietals and other stories waiting to be told.
8 RANGES
 We start at 8 Ranges between Alexandra and Clyde.  If you are a touring by bike enthusiast..and love your wine..you've just found Nirv8 Ranges Wines are crafted by  French winemakers from grapes grown on  "Certified Sustainable" Tussock Ridge Vineyard, which was established in 2001 by Mark Borrie and Trevor Deaker. 

For many years, Mark and Trevor have had a passion and enthusiasm for fine wines – and for the Central Otago landscape.
These have been the motivations for the establishment of 8 Ranges Wines.  The aim is to always produce wines of distinction and excellence which express the local terroir.
Tussock Ridge
is a boutique vineyard of less than 3 Ha, situated on the edge of a high terrace in the middle of the Alexandra Basin amidst spectacular mountains in the Central Otago region of New Zealand.
The vineyard overlooks the Clutha River between Alexandra and Clyde, and is located just above the Central Otago Rail Trail.
There are panoramic views of the many surrounding mountain ranges from which our name and inspiration are derived:
The Old Man Range – Te Kopuwai
• The Old Woman Range
• The Remarkables Range
• The Cairnmuir Range
• The Pisa Range
• The Dunstan Range
• The Hawkdun Range
• The Raggedy Range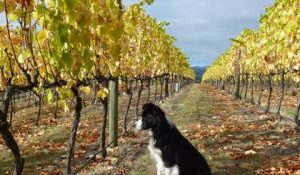 8 Ranges
8 Ranges Wines is a boutique brand established in 2001. All grapes are estate-grown and hand-picked from their Tussock Ridge Vineyard. This certified sustainable boutique vineyard is located high on a rocky, gravel terrace overlooking the Alexandra Basin of Central Otago. The uninterrupted views of 8 Ranges of mountains inspired the name.
The many award-winning wines exhibit the skills and experience of talented french winemakers Anthony Worch (vintages 2006 to 2009) and Lucie Lawrence (2010+).
The Pinot Noirs are Burgundian in style.
Beyond all that well meaning information..what I really liked about 8 Ranges were the people themselves.
Mark Borrie and Trevor Deaker have a quiet confidence about their vineyards and their wines and so they should.
They passed our tasting with flying colours..
Surprisingly they do not have Canadian representation. This too shall change.
The boys make a beautiful  Rosé, Pinot Gris, Trail Rider and Barrel Selection Pinot Noir so well!
The best way to get your hands on 8 Ranges is to write them
[email protected]
https://www.facebook.com/8rangeswines
www.8ranges.co.nz
[divider]
FELTON ROAD  

One of the world's finest Pinot Noirs. No Question.
This Central Otago icon produces stunning biodynamic wines year after year. These guys really know their stuff.
In 2010 Felton Road was designated a
Grand Cru winery of New Zealand.
This Grand Cru status, currently only held by two other wineries (including Ata Rangi), recognizes the premier producers of Pinot Noir in New Zealand.
Winemaker Blair Walter
is a master of less is more, Pinots are unfined and unfiltered and challenge the very best the world has to offer.
Felton Road is situated on warm, north facing slopes of glacial loess soils
in Bannockburn,
in the heart of Central Otago. The modern gravity fed winery receives 100% estate grown fruit from its three vineyards that are all farmed biodynamically and are fully certified by Demeter. Minimal intervention in the winemaking with such practices as wild yeast, no fining or filtration, allow the unique vineyard characters to further express their considerable personality.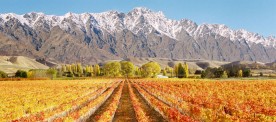 Since the first vintage in 1997, Felton Road has acquired a formidable worldwide reputation.
Felton Road is one of the legendary names in New Zealand wine. They're probably the most famous of the Central Otago wineries, making some highly regarded Pinot Noirs.
It was my great pleasure  to spend a number of hours talking to Owner, part time chef and team leader
Nigel Greening.
Looking for one of the best wineries anywhere in NZ?  you've just found it.
  Felton Road.   
www.feltonroad.com
 [divider]
Carrick Wines
Bannockburn, home to Carrick wines is found deep in the southern interior of the South Island of New Zealand in the wine region of Central Otago.  Bannockburn enjoys a continental climate with low rainfall and high sunshine hours. The long cool autumns with their warm days and cool nights create ideal conditions for the production of Pinot Noir, Chardonnay and Riesling. Other grape varieties such as Sauvignon Blanc and Pinot Gris also thrive in Central Otago's microclimate.
Their winemaker,
Francis Hutt
, works closely with viticulturist
Blair Deaker
to make vineyard and winery decisions that will enhance the finished wines, as well as staying true to their organic values.
Francis Hutt Winemaker
Francis joined Carrick in 2010 having decided that Central Otago was where he wanted to be. Being a thorough young man he decided that in order to make wine in Central Otago he needed to know the vineyard first so spent a year working with Blair, our viticulturist before being appointed as Carrick Winemaker in August 2011. He has a particular interest in organic and biodynamic growing of grapes and wine production, so was specially delighted to be the first Carrick winemaker when we were able to show the world our organic certification on our 2012 botttling
Blair Deaker Viticulturist
Originally a Cromwell boy but has been away for a significant time. Returned to Cromwell and Carrick from Villa Maria organic vineyards and has been instrumental in moving Carrick towards its organic status. Great with people, hens, dogs, vegetable gardens, phases of the moon, brews for our compost and of course vineyards
.
 AND THAT'S THE LAST NZ WINERY..but we're not quite done yet.
First there's
John Davies at Aoturoa Luxury Villa Accomodations..
quite simply a great accommodation destination..right in the middle of all these wineries.
Then there's
Lilly Liu and George Ge
,  welcomed  comments from  fellow journalists,  who were there for  National Geographic Traveler Magazine, doing a  NZ story for the Chinese market. And finally my host who started the whole journey off..
Phillip Manson from Wines of New Zealand.
http://www.aoturoa.co.nz/
www.winesofnz.com
www.nzwine.com
Podcast: Play in new window | Download
[divider]
STORIES WERE WORKING ON
 
Ivano Reali – GM Castello di Gabbiano  Tuscany.
David Hawksworth Scholarship
The Wine Diva on her trip to Portugal